Sun 13 June 20:00
Abbeydale Picture House
1h 24min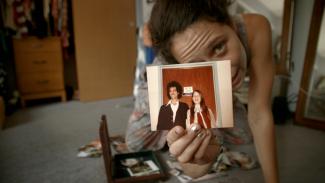 The Sheffield DocFest Audience Award Winner 2021 goes to Charm Circle. 
Charm Circle is a cinéma vérité portrait of an eccentric New York family navigating the chaos that divides them. After uncovering a treasure trove of home videos documenting the moments of love, laughter, and musical expression that punctuated an otherwise tumultuous upbringing, filmmaker Nira Burstein returns to her childhood home – now crumbling from the inside out – to explore whether she and her two sisters can reconnect with her parents. Catalyzed by the announcement of her younger sister's polyamorous wedding, refueling tensions threaten to sever what's left of the family bond. Burstein's brave, wryly amusing first feature is a tender, unpredictable study of a family struggling against an array of issues with honesty and a steely sense of humour. Going beneath the surface of the social struggles of its subjects, the film reveals people as more than the problems they experience and the labels applied to them.

The Audience Award is supported by PBS America.