Mon 7 June 11:00
Online
1h 00min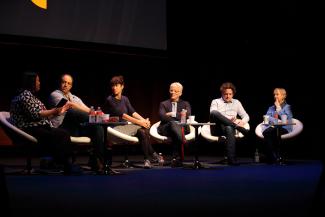 The recent UWE report 'Keeping it Real' determined UK documentary to be "chronically under-funded, under-valued and rarely understood even by executives in the wider screen industries". Among many recommendations, the researchers highlight the need to raise the cultural status of feature documentary and champion its social value. This session assembles international perspectives to explore how the case for documentary funding is made abroad and reflect on how it can be articulated in the UK.
Host: Shanida Scotland (Head of Film, The Doc Society)
Speakers:
Diego Pino Anguita (Director, Chiledoc)
Varadila Nurdin (Program Director, Docs By The Sea)
Ane Mandrup (Head of Documentaries, Danish Film Institute)
Juan Pablo Libossart (Production & Development, Swedish Film Institute)
A recording of this talk is available to Online Industry Pass holders on our Doc/Player platform.
All talks are captioned, provided by AI Media.