Fri 11 June 12:00
Market Zoom
1h 30min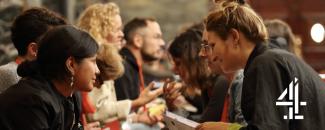 Channel 4 Digital Factual content prides itself in featuring the experiences, voices and views of young people living across the UK today, distributed exclusively on digital platforms. As part of the online industry programme at Sheffield DocFest, we are hosting an opportunity for you to pitch your short form Factual strands and mid-form documentary ideas to Channel 4 commissioners in online 1-2-1 meetings on Friday 11 June.
*BOOKING FOR THIS EVENT IS NOW CLOSED*
The Brief
Factual shorts should be character and narrative driven and give us a glimpse into the lives and worlds of everyday people, doing surprising things. These areas and topics can be challenging, enlightening, fun, at times dark, light but ultimately tell us about the world today. The perspective of who we tell these stories from is key, as is style and tone. The approach can be observational or formatted - what matters is whose lives are we documenting and how do we tell their stories. These short films need to give a voice to unrepresented and diverse communities. It's a chance for us to shine a light on those living on the edge of mainstream society.
The films are a chance for us to showcase the best emerging talent - both on and off screen and especially diverse talent - and give a chance for us to showcase new approaches to filmmaking. The short form should not deter you - telling a story in 3-5 minutes (or up to 12 for mid-form) is important to engage the digital viewer. A strong start and hook is key to keeping the viewer.
Areas of Interest
Headline grabbing subjects tend to do well for Channel 4 in the digital space but they need to be more than just an attention grabbing top line. What does it say about the contributor's lives and the world we live in today? What are we trying to say about young people and the lives that they live?
We aim to hold a mirror to our audience and is a brilliant opportunity to do that for a young audience. 
All our Digital output needs to be made with third-party platforms in mind. Which means we need:
● Short-form, shareable strand propositions that are character led.
● They can be led by emerging talent or contributors, but the setting and subject matter must feel authentic
● They should be young skewing, aimed at a core demo of 18-24.
● Each piece should be able to serve a range of platforms; YouTube, Snapchat, Instagram and Facebook each have slightly different lengths and will require different styles of editing– we can help guide you here.
● Producers should think about how their content will look on these platforms when shooting – this helps when it comes to re- versioning for vertical and Snap. We love close ups and faces too and getting to the story quickly, not long lingering shots and set up.
● We are looking for closed episodes but open to returning strands and characters.
Key Details
Budgets are around £1-2K per minute and on average films should be about 3-5 mins
long. However, if you have an amazing mid-form idea at circa 8-12mins then tell us
about it.
The Digital content is published on Facebook, YouTube, IGTV and should also be Snapchat ready. Delivery specs for these will be given to you so please remember that these platforms have different ratios and subtitles requirements.
We are always looking to commission and for delivery throughout the year.
Register HERE to meet with the following Channel 4 commissioners virtually as part of the online Sheffield DocFest Industry Programme on Friday 11 June.