Tue 8 June 18:00
Online.
1h 00min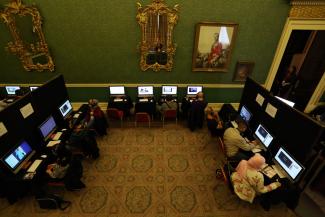 Looking to watch docs online beyond the most well-known platforms & channels? Or perhaps you're a filmmaker interested in connecting your work with audiences. Join this session to hear representatives from a variety of online film spaces discuss their collections, curatorial approaches and processes for considering and showcasing new work.
Chair: Delphi Lievens
Speakers:
Lukas Brasiskis (Associate Curator of Video & Film, e-flux)
Christopher Small (DAFilms)
Chris Harris (TrueStory.film)
Róisín Tapponi (Founder, Director and Senior Programmer, Shasha Movies)
A recording of this talk is available to Online Industry Pass holders on our Doc/Player platform. All talks are captioned, provided by AI Media.