Tue 8 June 12:00
Online
1h 00min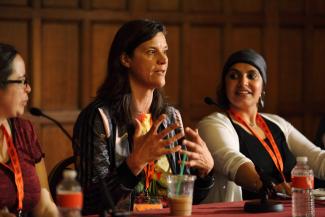 Women are still the largest consumers of broadcast media and yet are still underrepresented on and off screen and they still struggle to obtain leadership roles. Channel 4 Factual have been leading the way of changing this in the industry with over 50% of directors used being females for single films and limited series. A panel of expert directors discuss how an increased female perspective can progress documentary filmmaking across the board.
Chaired by Sandi Toksvig (comedian, presenter and co-founder of the Women's Equality Party) with:

Rosemary Baker (producer, director & artist)
Alex Sim-Wise (model, writer & presenter)
Poppy Begum (journalist & producer)
Jenny Ash (producer, director)

Produced by Naomi Rose (Channel 4)
Supported by Channel 4.
A recording of this talk is available to Online Industry Pass holders on our Doc/Player platform. All talks are captioned, provided by AI Media.