Mon 7 June 12:00
Online.
1h 00min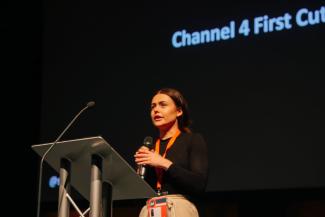 David Brindley, CCO of TwoFour, ex BBC and C4 commissioner and former First Cut director, hosts a panel of both highly successful and also still rising First Cut directors. They talk candidly about the scheme, what they learnt and what they wished they'd asked when directing their first hour-long film. The dos and don'ts of First Cut and how to get one commissioned!
Speakers:
Rowan Deacon (Freelance director)
Pete Beard (Story Films)
Lyttanya Shannon (Freelance director)
Fozia Khan (Commissioning Editor, Amazon)
Rita Daniels (Commissioning Editor, First Cut, Channel 4)
Sacha Mirzoeff (Commissioning Editor, Factual and Head of Hub Bristol, Channel 4)
Supported by Channel 4
A recording of this talk is available to Online Industry Pass holders on our Doc/Player platform.
All talks are captioned, provided by AI Media.