Mon 7 June 11:00
DocFest Exchange Online Cinema
2h 17min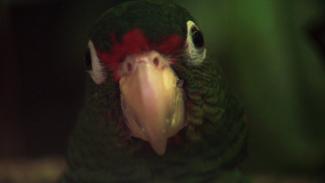 Today's DocFest Exchange highlight film is
The Great Silence
(2014).
The Great Silence (2014) Allora & Calzadilla
At the Arecibo Observatory in Puerto Rico, astronomers listen for signs of extra-terrestrial life. With the world's largest radio telescope, they scan for signals from the farthest reaches of the universe. Meanwhile, the critically endangered Amazona vittata parrots that surround the observatory ask, "Why aren't they interested in our voices?"
A collaboration with science fiction author Ted Chiang.
Edition of 3 + 2 APCourtesy of the artist and Galerie Chantal Crousel, Paris

This film will be available to watch online until Sun 14 Jun, as part of the DocFest Exchange: Beyond Our Own Eyes programme.
The DocFest Exchange is a year-round curated programme exploring themes of climate justice and the health of the planet. This year's DocFest Exchange programme, titled Beyond Our Own Eyes, invites us to appreciate perspectives beyond our own, asking what possibilities emerge when we open ourselves to other ways of seeing the world.
The full programme - including film screenings, talks, and workshops – will be available online from 4 - 13 June. Check out the full programme
here
.