Mon 7 June 15:00
Online.
1h 00min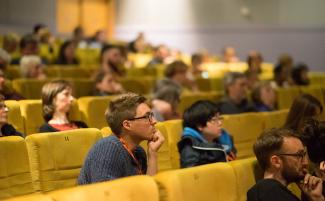 Presented by The Guardian, this session discusses the ways in which journalism and creative documentary can successfully intersect. What can the pursuit of creative documentary learn from the principles of good journalism - and vice-versa - and why does that matter in the 21st century? And what are the possibilities for collaboration?
Produced and chaired by Lindsay Poulton (Head of Documentaries at The Guardian)
Speakers:
Anaïs Taracena (Director, The Silence of the Mole)
Paul Sng (Director, Poly Styrene: I Am a Cliché)
Elhum Shakerifar (Producer & Curator, HAKAWATI)
Robert Greene (Filmmaker-in-Chief, the Murray Center for Documentary Journalism at the University of Missouri)
John Domokos (The Guardian)
Supported by The Guardian.
A recording of this talk is available to Online Industry Pass holders on our Doc/Player platform.

All talks are captioned, provided by AI Media.