Wed 9 June 16:00
Online
2h 00min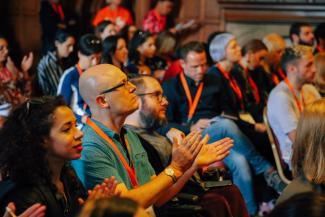 WaterBear is a new interactive video platform dedicated to supporting life on our fragile planet through world-class storytelling, cutting-edge technology and a global network of partners working together for impact. In partnership with Sheffield Hallam University and Sheffield DocFest, WaterBear will award a proposal for a student short film (<5 mins) with a £500 production grant and presentation of the completed film on the WaterBear platform.
Finalists pitching their projects:
Gwenan Walker (USA)
Lucía Malandro (Cuba)
Margarita Dreiling (UK)
Anant Jain (India)
Vicente Villarroel (Colombia)
Brian Griffith (USA)
Judges:
Rebecca Mark-Lawson (Film producer and founder of Tyke Films)
Aisha Jan (Administrator, BFI Young Audiences Content Fund)
Saskia Wilson (Lecturer in Film and Media Production, Sheffield Hallam University)
Ellen Windemuth (CEO, WaterBear Network)

Produced by Colin Pons, Geff Green (Sheffield Hallam University) & Etta Lathan-Pons (WaterBear)
Supported by WaterBear and Sheffield Hallam University.
This pitch will be available to live stream for all Online Industry Pass holders on our Doc/Player platform. All live-streamed talks and pitches will be captioned, provided by AI Media.