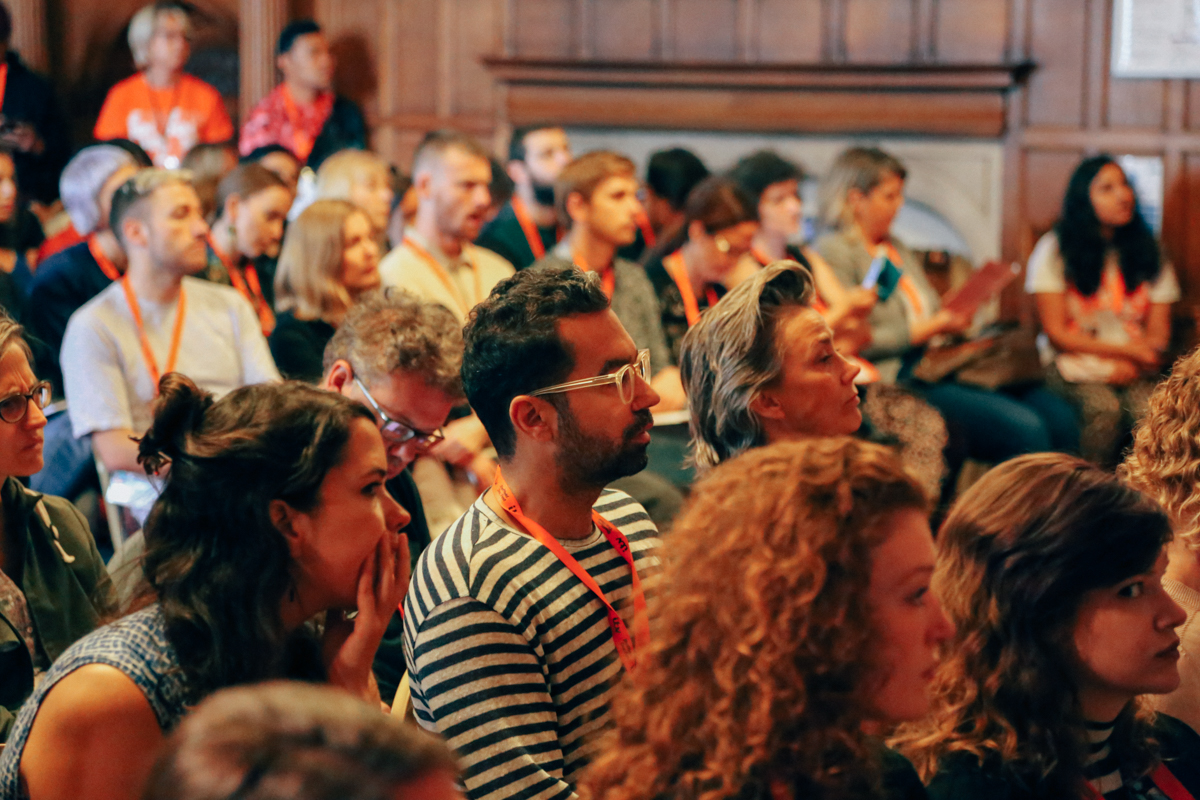 Sheffield DocFest is committed to providing a positive and inclusive experience for all, including those with disabilities and other access requirements. 
Venues
All festival venues are wheelchair accessible. Please note that wheelchair spaces in events are subject to availability. Please contact the DocFest Box Office on boxoffice [at] sheffdocfest.com for information on availability.
For all enquiries relating to accessibility and reasonable adjustments please email access [at] sheffdocfest.com or call +44 (0) 114 276 5141.
Hearing loops are available at the Showroom Cinema. You can find detailed information on all festival venues on our Venues page.
Programme Guide Materials
Please look out for accessible screenings and events noted within the printed programme.
If you require the printed programme in a different format, please contact access [at] sheffdocfest.com for a downloadable PDF that is enlargeable. 
You can also call +44 (0) 114 276 5141 to be able to speak with someone about the programme and to ask questions about what is on when.
Captioning & Subtitling of Films & Talks
Captioning is a service for hearing-impaired and D/deaf people. There are two types of captioning, open and closed. 
Open captioning when the captions appear but you do not have the ability to turn them off, similar to English language subtitles on a foreign language film. This is used in cinema presentations and on all our live streamed talks. 
Closed captions have the ability to be turned off and on at the discretion of the user within the playback window. This will be available on some our online films on Sheffield DocFest Selects. 
We provide closed captioning where possible for our online films. These screenings have a transcription of the film's dialogue in English along the bottom of the screen and a description of the sound in the film is also included in these captions. 
Please note, some captions have to be actively produced by the film distributors. Some distributors have a policy of providing this service for all their films. Other distributors may never do so.
Our programme contains many films subtitled into English from other languages. These may also be suitable for D/deaf or hearing-impaired customers but won't always include additional descriptions of sounds. 
All our live-streamed Talks and Pitches will be live captioned. Live captioning in 2021 was provided by Ai Media. 
Relaxed Screenings
Our Relaxed screenings are sensory adapted cinema. This means that we want them to be as inclusive as possible. You can move around and make noise during the film, the sound will be a little quieter and the lights will be up a little so you can see around you. There will be a quiet space available for everyone outside of the cinema screen and, as with all our screenings, carer tickets are free. There will also be English subtitles or open captions. These screenings are for everyone but they are especially programmed for neurodiverse people. Please note that while we encourage everyone attending our screenings to wear a face covering, some of the audience may be exempt.
Captioning of Online Films
For online, all English language films with our community programme and all our films in the DocFest Exchange will have closed descriptive captions online. 
Additional films may feature closed descriptive captions for d/Deaf and Hard of Hearing audiences. We are regularly updating this list as we work with filmmakers. 
You can see a complete list on Sheffield DocFest Selects by clicking here
The list on Sheffield DocFest Selects will be mirrored on DocPlayer