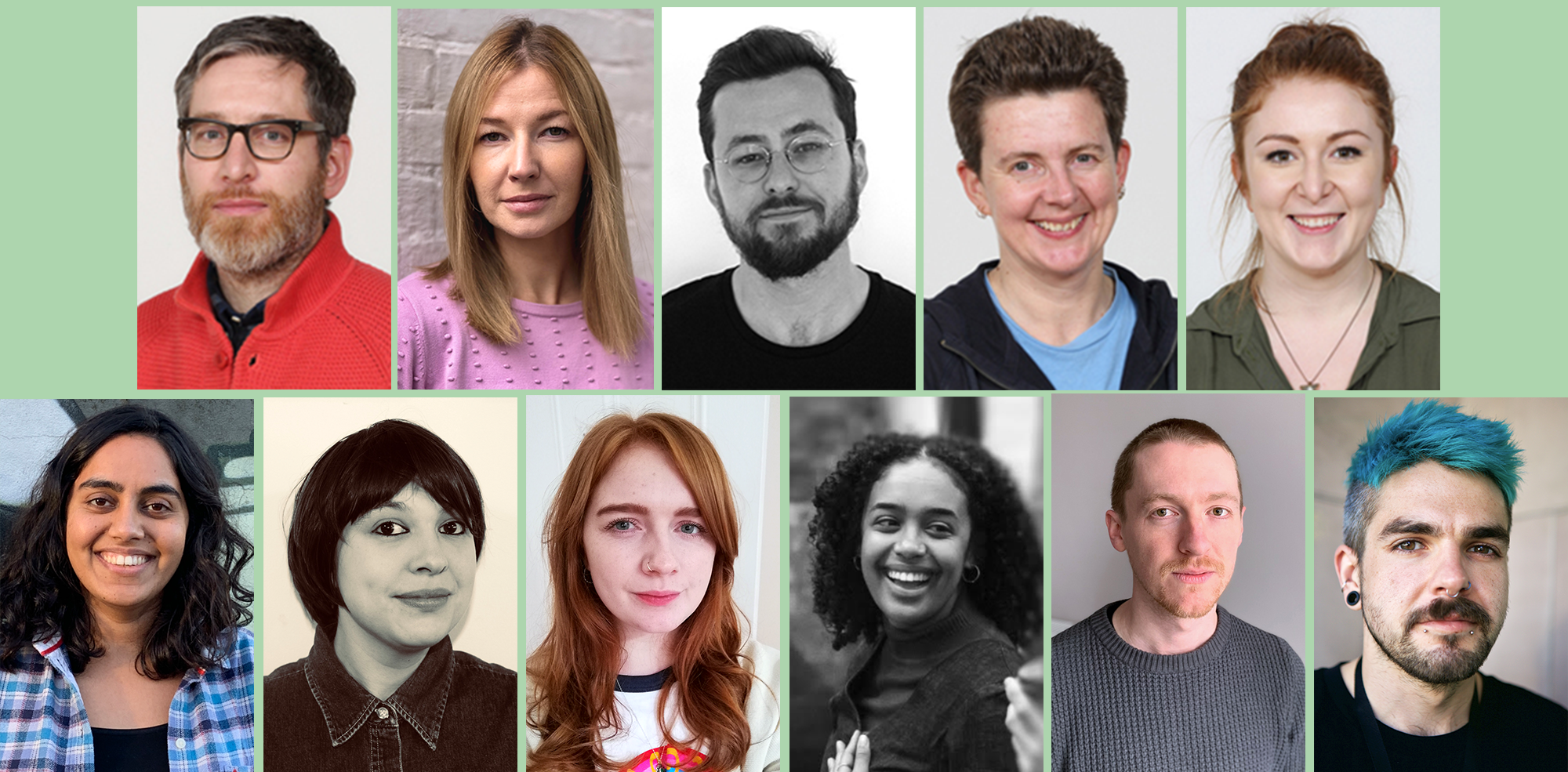 Direction
Sylvia Bednarz - Interim Managing Director
sylvia.bednarz [at] sheffdocfest.com
Sylvia joined the Sheffield DocFest team in 2013 to develop new UK and international partnerships for the festival, and to lead on income generation. She is currently Interim Managing Director of the charity. Ahead of joining the Sheffield DocFest team, Sylvia worked in several roles across the documentary sector including film and TV production, commissioning for online and TV, and film festivals. 

Patrick Hurley - Director of Industry 
patrick.hurley [at] sheffdocfest.com
With the Festival since 2017, Patrick leads on Doc/Fest's Industry Programme encompassing the MeetMarket, Arts Talent Market, pitches, industry sessions and talent development initiatives. Formerly Distribution Manager at Dogwoof from 2012-16, Patrick has worked closely with filmmakers, producers and partners on a diverse slate of over 100 documentary releases. Prior to working in film, Patrick was a Researcher and Senior Tutor in the Department of Government and International Relations at the University of Sydney focusing on Geopolitics, International Security, Political Analysis and Qualitative Methods.
 
Artistic Programme 
Mita Suri (Film Programme Producer and selection for Northern Focus)
mita.suri [at] sheffdocfest.com
With a background in community cinema exhibition, Mita Suri started working in Doc/Fest as a volunteer, then supported the Doc/Circuit tour as a Distribution Trainee, moving on to be the Film Programme Coordinator and now the Film Programme Producer, supervising the delivery of the Film Programme for the festival. She is primarily responsible for the external contacts including filmmakers, national film institutes and distributors, managing the submissions process, running the Youth Jury Programme and coordinating Doc/Fest's year-round activity outside of the festival. Mita's previous work experience has been in health services' management, youth leadership initiatives and as support teaching staff in schools within the UK and abroad. Mita is a programmer for the Northern Focus film strand.
Jamie Allan (DocFest Exchange Film Programme)
jamie.allan [at] sheffdocfest.com
With a background in community cinema and documentary film production across the fields of environmental science and global health, Jamie Allan is passionate about how transdisciplinary collaboration and collective filmmaking practices can create space for alternative forms of storytelling, production, exhibition and distribution. He has a Masters in Documentary Film Directing from the DocNomads itinerant film school in Lisbon, Budapest and Brussels, and is currently a researcher with the Collective Practices Post-Master at the Royal Institute of Art, Stockholm. Since 2017 Jamie has been part of Cinecaravan – a mobile cinema project which hosts filmmaking workshops and screens short documentaries in geographically and socially remote communities across Europe. Jamie also co-curates the annual HOME Artist Film Weekender and was formerly Assistant Producer of Visual Art at HOME, Manchester's centre for contemporary art, theatre and film.
Hannah Campbell (Arts Programme Producer)
hannah.campbell [at] sheffdocfest.com
 
Hannah has a range of experience producing and curating multi-disciplinary arts exhibitions, events and performances and enjoys working closely with artists to realise their projects. She holds an MSc in Modern and Contemporary Art History from the University of Edinburgh and is fascinated by the intersections between contemporary art and research. Prior to joining the Doc/Fest team, she worked with the National Galleries of Scotland, Historic Environment Scotland, Summerhall in Edinburgh, the Gallery of Modern Art (GoMA) in Glasgow; Inverleith House, Fruitmarket Gallery, Talbot Rice Gallery, and Museums Sheffield, among others. With past experience in teaching, Hannah has a particular interest in community engagement and arts education. Born and raised in Sheffield, Hannah has a true love of the city and its people.
Industry Programme
Patrick Hurley (Director of Industry)
patrick.hurley [at] sheffdocfest.com
Community Programme 
Laura Hegarty (Community Programme Producer)
laura.hegarty [at] sheffdocfest.com
Laura works in a variety of disciplines across arts, culture and communities—specialising in film, theatre and music. Recent work includes roles at Sheffield Theatres, Ignite Imaginations and the Showroom Cinema - all with a focus on working collaboratively with audiences; the potential art and culture has to connect people and fight inequality; and a belief that everyone should have access to art and culture in the places that they live. Laura is a fellow of the Arts Marketing Association Audience Diversity Academy and is currently part of the Brighter Sound Leaders Network - 2021.
Communications, Partnerships, & Press
Sylvia Bednarz (Director of Partnerships & Development)
sylvia.bednarz [at] sheffdocfest.com
James Mullighan (Partnerships Executive)
james.mullighan [at] sheffdocfest.com
James is the (part-time) Partnerships Executive for the Festival. He also works at independent documentary production company Fat Rat Films as Development Executive. In the summer of 2019, he was Director of Production of the London Indian Film Festival, having done a stint as Development Consultant for Together Films. He produced the 2018 CogX Festival - the most important AI event in Europe. In November 2017, he hosted the This Way Up Cinema Exhibition Innovation conference in Hull's Truck Theatre. He directed the 58th - 61st editions of the Cork Film Festival, and the 65th Edinburgh International Film Festival. He has worked for GIANT Healthcare Event, Together Films, Shooting People, RESFEST, Cinelan, and HBO Europe. James serves on the Board of Encounters Short Film and Animation Festival. He is mad for test cricket, but disapproves of the use of the word 'tragic' in this context.
 
Eleni Stavrou (Communications Coordinator)
eleni.stavrou [at] sheffdocfest.com
Eleni is a visual artist, designer and a graduate of the Sheffield Institute of Arts, where she occasionally returns to lecture in Graphic Design. When not at Doc/Fest, find her hatching plans with pals at FLAW Collective – a space for marginalised genders, including women, trans and non-binary people to share skills, collaborate and inspire. Contact her for all things communications and marketing related.
Access, Operations, Production & Finance:
Mat Steel (Head of Production & Operations)
mat.steel [at] sheffdocfest.com
Since 1998, Mat has worked in both production and artist roles on numerous film, sound, and arts events, at festivals and galleries in the UK and abroad. He became a freelance production manager in 2003 and first contributed to Sheffield Doc/Fest in 2004, working on every Doc/Fest since then in an ever-growing capacity.
Maria Stoneman (Head of HR & Participation (Maternity Leave))
Originally from a theatre direction and dance theatre background, Maria has been part of the DocFest team since 2012 when she was the Festival Administrator, then Head of Operations & HR in 2015 and as of 2020; Head of HR & Participation. She particularly enjoys being part of "Team Ops" and working closely with the Production team on "making the magic happen". She is an advocate for access at the festival and the wider arts community and continues to develop a variety of programme initiatives to enable access to all at the festival. In her spare time, she attends the theatre, enjoys running, cycling, yoga and trying to cook whilst handling the sass from Gerry, the cat. (He's gorgeous though). Ask her for information about educational partnerships, community outreach initiatives, questions or concerns about accessibility at the festival, festival recruitment and work placement opportunities
Lee Bentham (Operations & Admin Coordinator)
lee.bentham [at] sheffdocfest.com
Lee volunteered at several different festivals before deciding to pursue it as a career. He has previously worked as a production assistant for film and television, taught filmmaking to kids in the USA, and even worked on a live YouTube show from a skyscraper in Toronto. Now, he's settled back in the UK and a part of the DocFest team. He bets you can't beat him in a bicycle race. 
Fiona Outram (Finance Manager)
fiona.outram [at] sheffdocfest.com
Fiona has 17 years' accounting experience in various industries including Real Estate Investment Management, Manufacturing, Reprographics and Brand Management. Before embarking on her career in finance, she worked as a lifeguard and as a kitchen porter, and outside of work her hobbies include herding cats. This CV made her the ideal candidate to lead the finance team at Doc/Fest when the role came up in 2015.
Cassie Fletcher (Assistant Accountant)
cassie.fletcher [at] sheffdocfest.com
Cassie wanted to be a banker, but she lost interest. So instead she joined the Doc/Fest team. At Doc/Fest Cassie assists with the accounts. Please contact her if you have any exciting questions about VAT.
Trustees
Alex Cooke, Chair
Brian Woods, Deputy Chair 
Derren Lawford 
Helen Scott 
Jo Clinton-Davis 
Madonna Benjamin 
Peter Armstrong 
Shirani Sabaratnam 
Fozia Khan
Daniel Gordon
Jennifer Kimber
Gali Gold
Beejal- Maya Patel
Diana Buckley (Sheffield City Council observer)
Sue Cook (Arts Council England observer)