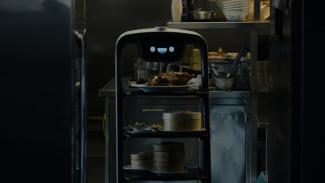 Book Tickets
The world of work is changing rapidly, and not just in the directions you might imagine. These beautifully cinematic films span the full spectrum of labour, from the gentle dedication of a woodcutter to the rise of robot waiters, surveying the past, present and future of work.
Cold and Dark
Zima a Tma
Peter Hošták / Slovakia, Canada / 2023 / 29 / World Premiere
A group of loggers and their horse embark on a delirious journey to gather firewood deep in the Slovakian mountains.

Metabolism
Misho Antadze / Netherlands / 2023 / 12 / World Premiere
Machines milk cows and robots serve diners. In this quiet observation on the mechanisation of labour, humans feel increasingly irrelevant. Empathy passes to the machines.

A Maiden Sings
Canta una doncella
Max Torrés Altés / Spain / 2023 / 24 / International Premiere
After a lifetime of service to one household, a maid finds herself replaced. At 87, she starts to question her role in the family.

Carpenter
تاش -Dartaş
Xelîl Sehragerd / Kurdistan / 2023 / 14 / European Premiere
With tireless dedication, an old Kurdish carpenter collects wood to make artificial legs for victims of landmine explosions.