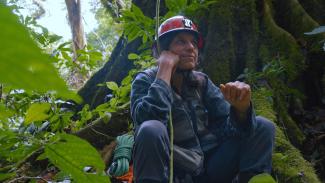 Book Tickets
After a life-threatening fall from a tree, world-renowned ecologist Nalini Nadkarni uses her recuperation to untangle the troubled roots of her past.
Nalini Nadkarni is world-renowned for her study of rainforest canopies. Pioneering the use of climbing techniques to enter the canopy, she studies ecological disturbance and what grows back in the aftermath. On one such research trip in 2015, her rope snapped, and she fell 50 feet to the ground. As she makes a miraculous recovery, Nalini begins to explore a new research subject: herself. Making preparations to climb again in Costa Rica, she unearths the roots of traumatic disturbances throughout her own life and the way they impact her to this day.

Content Guidance: contains descriptions of trauma and sexual abuse.

This film will screen as part of the programme Shorts: Dreaming Trees.
Topics

Premiere status

European premiere
Film details
Director(s)

Andrew Nadkarni

Country(s)

Year

2023

Duration

25 mins

Producer(s)

Andrew Nadkarni, Katie Schiller, Swetha Regunathan

Cinematography

Joe Van Eeckhout, Derek Knowles

Editing

Peter Zachwieja

Sound

Another Country

Language(s)

English, Spanish

Subtitles

Partial English Subtitles

Certification