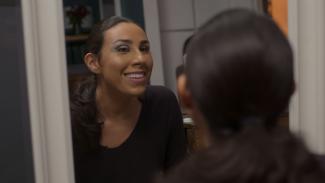 Book Tickets
Oscar-nominated filmmaker Julie Cohen turns her focus towards the lives of three intersex people, in this heartfelt and urgent call for equality.

In the US, intersex people are still subject to invasive and premature surgeries, performed without consent upon children of a very young age. Born with sex characteristics that do not fit the typical binary notions of 'male' and 'female', three intersex adults are now calling for a ban on these harmful surgeries. River, Alicia and Sean all ignored the medical advice to keep their sex a secret, instead sharing their profound individual journeys in embracing their true intersex lives. Now leaders in a global movement for intersex rights, they embark on a journey to the White House where they hope to make history by changing the law.
RBG
 director Cohen's impassioned and compelling film is a tribute to the power of living life as our authentic selves.
Content Guidance: contains some archive scenes of intersex phobia.
Strands

Topics

Premiere status

International premiere
Film details
Director(s)

Julie Cohen

Country(s)

Year

2023

Duration

91 mins

Executive producer(s)

Elizabeth Fischer , Liz Cole , Noah Oppenheim, Andy Berg

Producer(s)

Tommy Nguyen, Molly O'Brien , Shana Knizhnik

Cinematography

Kate Phelan, Leah Anova

Editing

Kelly Kendrick, Kelly Kendrick

Sound

Sean O'Neil, Michael Suarez

Language(s)

English, Spanish, German

Subtitles

Partial English Subtitles

Certification