Miraklet i Gullspång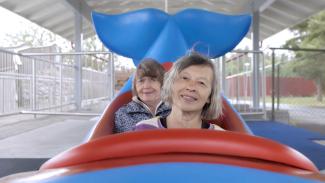 Book Tickets
A series of coincidences lead sisters Kari and May to Olaug, the spitting-image of an older sibling who was believed to have committed suicide decades ago.
When May is injured in a freak accident on a rollercoaster ride, she and her sister Kari decide to buy a home in the small Swedish town of Gullspång. But when the siblings encounter the property's seller, Olaug, they become convinced that she is their older sibling, Lita, who allegedly committed suicide some 30 years earlier. It is at this point that documentary filmmaker Maria Fredriksson, at the behest of the sisters, begins to investigate this strange history. Gradually, she pieces together a domestic jigsaw puzzle, resulting in a blackly-comic family drama that journeys down a series of surprising – and sometimes downright unbelievable – paths. Combining dramatic re-enactments with archival footage,
The Gullspång Miracle
 weaves a true-crime narrative into a unique tale of a family struggling with loss and deception.
Strands

Topics

Premiere status

European premiere
Film details
Director(s)

Maria Fredriksson

Country(s)

Year

2023

Duration

109 mins

Producer(s)

Ina Holmqvist / Ballad Film

Cinematography

Pia Lehto

Editing

Mark Bukdahl, Orvar Anklew

Sound

Jonas Colstrup

Language(s)

Norwegian, Swedish

Subtitles

English Subtitles Throughout

Certification