Vivian Kleiman
2021
1h 18min
International premiere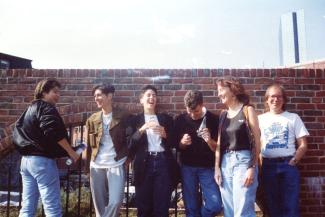 "Lesbians and Gay Men Put It On Paper!" read the tagline of Gay Comix, first published in 1980. The story of the queer comic begins in a period of censorship in the USA, and marginalization even among underground cartoonists. From Come Out Comix, which made history as the first lesbian comic in 1973, to Fun Home, via Dykes to Watch Out For and Brown Bomber & The Diva, zines come to life on screen through this celebration of LGBTQI+ cartoons and graphic novels. No Straight Lines profiles five pioneers of this fascinating art scene – Alison Bechdel, Howard Cruse, Jennifer Camper, Rupert Kinnard, and Mary Wings – producing commentary on everything from the AIDS crisis and workplace discrimination to the search for love and a good haircut. By following the artists' personal journeys, No Straight Lines shows how they tackled issues of identity with pen and paper, winning worldwide recognition for their work.
No Straight Lines: The Rise of Queer Comics will be followed by a live online Q&A with Vivian Kleiman, Alison Bechdel and Rupert Kinnard which will be live-streamed from the cinema to Selects.
This is also available to watch below.
Director(s)

Vivian Kleiman

Country(s)

Year

2021

Duration

78 mins

Producer(s)

Vivian Kleiman, Justin Hall

Language

English

Premiere status

International premiere

Strands/Competitions

Certification

Additional information

LGBTQI+ Discrimination

Film website