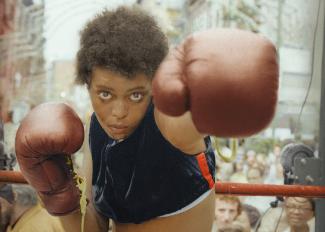 Book Tickets
The story of three pioneering US sportswomen who, in the 1970s, attempted to break into the most macho sport of all: competitive boxing.
Marian 'Lady Tyger' Trimiar, Cathy 'Cat' Davis and Pat 'Liberation' Pineda come together to tell the incredible story of the birth of female competitive boxing. Before they could fight each other, the women had to battle for acceptance in a sport they were legally barred from competing in. Individual battles against sexism, racism and homophobia came to the fore, which are regaled through incredible – and frequently hilarious – first person testimony and extensive archive material. Controlling managers, abusive boyfriends and a patriarchal society are overcome, but at what cost? Refusing to pull any punches,
Right to Fight
 highlights the determination and sacrifices these boxers made – both inside and outside the ring.
Strands

Topics

Premiere status

World premiere
Film details
Director(s)

Georgina Cammalleri

Country(s)

Year

2023

Duration

89 mins

Producer(s)

Tim Wardle, Cassandra Thornton

Cinematography

Ryan Earl Parker, Paul O'Callaghan

Editing

Alec Rossiter , Otto Burnham

Sound

Rob Garcia, Nas Parkash

Language(s)

English

Subtitles

No English Subtitles

Certification