Irena Stetsenko
2021
1h 18min
International premiere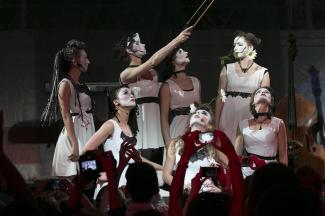 From the Ukrainian uprising came the Dakh Daughters, a punk cabaret performance act comprising seven artists, who play 15 instruments between them. The film follows preparations for their first stage show, Roses, a multilingual and multi-instrumental tragicomic musical theatre production, through which the group explore their roles as artists, as women, and as citizens living through times of revolution and war. Shot over five years by the band's sound producer Irena Stetsenko, we follow the Dakh Daughters on stage, in the dressing room, and on the streets of Kyiv, singing songs of protest at the Maidan square revolt. There we see the band dubbed the "sirens of revolution" – a phrase which shadows their wider artistic range, and which they later adopt with a sense of irony. Roses offers a cinematic cabaret quite unlike any other, while also giving insight into the lives of the women for whom creativity is a means of self-defense.
Roses. Film-Cabaret will be followed by a live online Q&A with director Irena Stetsenko, producer Oleksandra Kravchenko and two members of the Dakh Daughters, Natalka Bida and Solomiia Melnyk. This will be live-streamed from the cinema to Selects and is also available to watch below.
Director(s)

Irena Stetsenko

Country(s)

Year

2021

Duration

78 mins

Producer(s)

Oleksandra Kravchenko, Oleg Sosnov

Language

English Russian Ukrainian

Premiere status

International premiere

Strands/Competitions