Tokyo jitensha bushi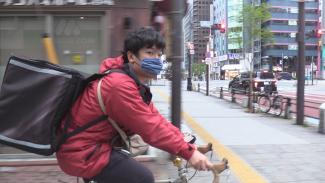 Book Tickets
Director Taku Aoyagi underwent a career change during the pandemic, becoming an Uber Eats rider. Will he survive?

As the pandemic hit in 2020, many saw their employment opportunities dramatically diminished. Filmmaker Taku Aoyagi found himself out of work and so, to earn a living, he moved to Tokyo to become an Uber Eats rider – one of the few booming businesses as society closed its doors. Shot mostly on mobile phones and GoPros,
Tokyo Uber Blues
 journeys through a 21st century megalopolis, with Aoyagi guiding us as he goes about his work. At the same time, his film grapples with what it is to be a twentysomething in present-day Japan, issues around the gig economy and the way a city was transformed by a world-changing event. By turns high-spirited, comical and despairing,
Tokyo Uber Blues
 is an essential, intimate portrait of recent times.
Special Programmes

Strands

Topics

Premiere status

UK premiere
Film details
Director(s)

Taku Aoyagi

Country(s)

Year

2022

Duration

93 mins

Producer(s)

kazuo osawa

Cinematography

Taku Aoyagi, Kiyoshi Tsuji, kazuo osawa

Editing

Kiyoshi Tsujii

Sound

Taku Aoyagi

Language(s)

Japanese

Subtitles

English Subtitles Throughout

Certification