Viera Čákanyová
2020
1h 14min
International premiere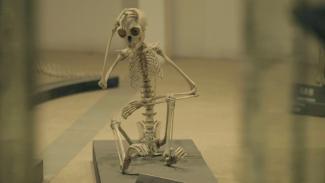 White on White is the video diary that filmmaker Viera Čákanyová kept while staying at the Polish Antarctic station, where she shot her neural network-led film FREM (2019) in 2017. During her stay, the author talks with a compellingly conversant AI chat bot, driving conversations that touch on the nature of film, art, and the meaning of life, while also revealing a way of thinking which – free from a distinctly human emotionality – forces deep introspection. Footage from her ordinary, everyday life at the station contrasts with lyrical images of the Antarctic's immaculate scenery and wildlife. Čákanyová complements this with her own probing and intelligent commentary, provoked by the loneliness of the ice-covered landscape.
White on White will be followed by a Q&A with Viera Čákanyová which will be shown after the screening and be available on Selects.
Director(s)

Viera Čákanyová

Country(s)

Year

2020

Duration

74 mins

Producer(s)

Nina Numankadić, Viera Čákanyová

Language

Slovak English

Premiere status

International premiere

Strands/Competitions

Subtitles

Partial English Subtitles