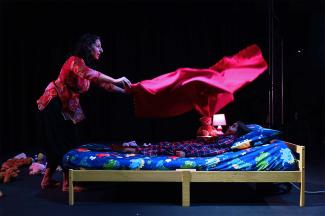 Book Tickets
This tender, one-on-one mixed reality experience combines human touch and virtual reality, where each audience member is gently put to bed.
Following on from last year's single chapter pilot, we are proud to present the full version, as intended, of Within Touching Distance. Exploring the fragile nature of life and the comfort of human connection, we are taken from childhood through to old age, exploring the nature of touch as it is experienced by an infant, adult and a person in palliative care. Using embodiment in virtual reality and the ritual of the mundane everyday task of getting ready for bed, the participants are taken through human life cycles, highlighting how our experiences change the way we interact, at a sensory level, with the world.
Each performance slot is designed for one attendee only, so if you are attempting to buy multiple tickets, they need to be for separate time slots.
Attendees must arrive 15 minutes prior to performance slot. Due to the restricted capacity for this performance, tickets will be re-allocated to the standby queue if attendees do not arrive within 15 minutes of performance slot.  
Please note, this performance involves lying on a bed and physical touch, and there will be an opportunity to a discuss any concerns with the front of house team on arrival. This performance also involves wearing a VR headset.
This performance is not suitable for children under 12.
The whole experience is wheelchair accessible with modification. For additional access questions/requests, please email jo.godfrey@sheffdocfest.com.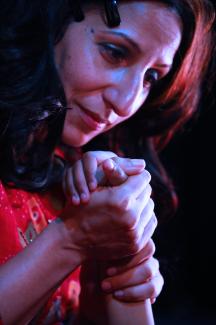 Topics

Premiere status

World premiere
Film details
Country(s)

Year

2023

Duration

35 mins

Cast

Georgia Carnaby, Katy Daghorn, Hayley Hill, Khadijah Islam, Persis Jade Maravala, Kayja Zisels Machado Maravala, Alice Motta, Sara Paz, Thelma Sharma

Company

ZU-UK

Creative Team

Sneha Belkhale, Hayley Hill, Ross Flight, Persis Jade Maravala, Jorge Lopes Ramos, Elisa Moriconi, Alex Peckham

Partners & Funders

Liverpool Cares, Greenwich Learning and Simulation Centre (GLASC) Centre for Creative Futures and Practice Hub, University of Greenwich, InnovateUK, Arts Council England

Production Team

Jorge Lopes Ramos / ZU-UK, Ana Gillespie, Carlos Eduardo Pires, Marnie Nash, Hayley Hill, Sel Ertas, Kesia Guillery, Sanjay Pandey

Production company

ZU-UK

Language(s)

English, Hindi