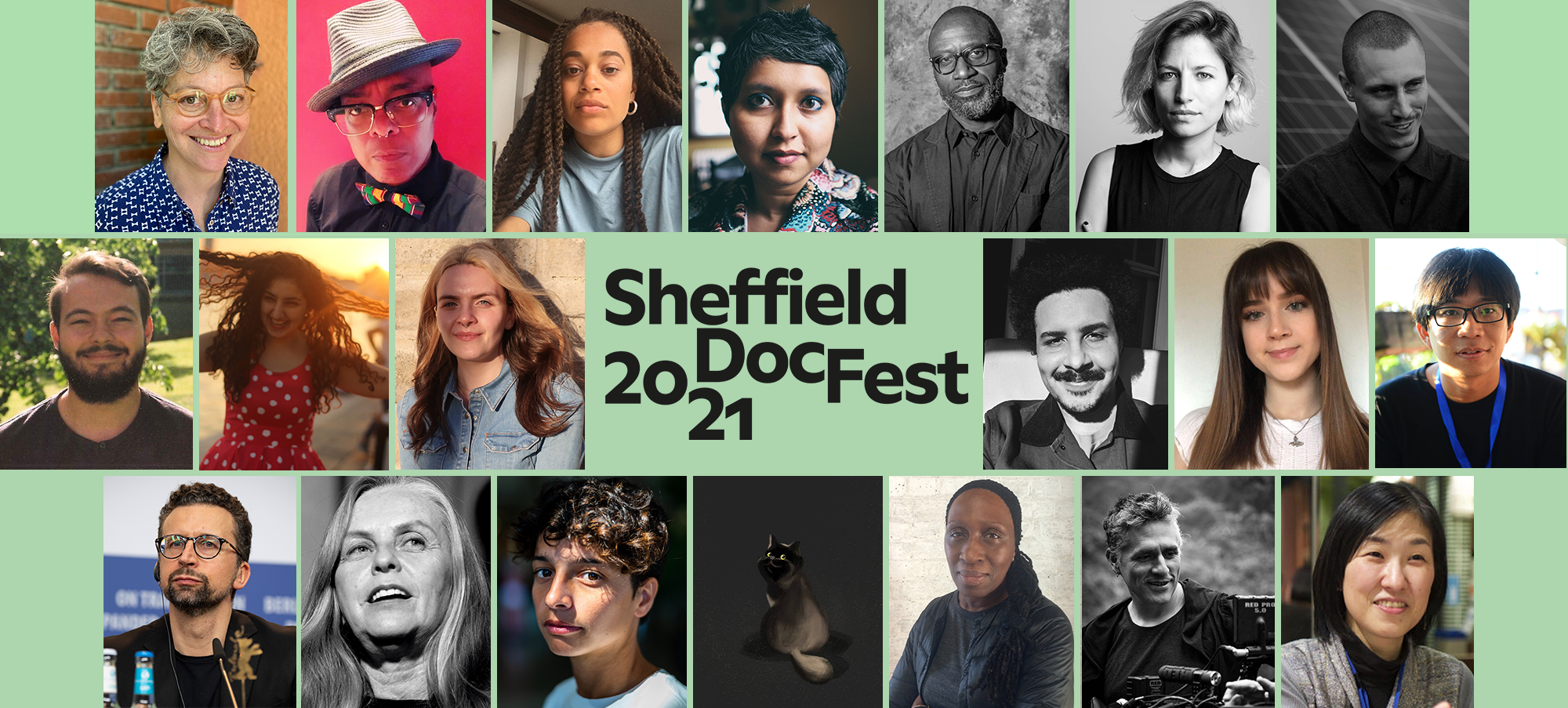 We're proud to announce our team of jurors for our International Competition, UK Competition and Awards... 
International Competition
Singular films from all over the world, driven by courageous and creative ways of reflecting life and imagining our times. 
Our International Competition includes 11 features in total, produced in 14 countries all over the globe.
Our International Competition Jury: 
Karen Alexander
Karen Alexander is an independent film and moving image curator and researcher. She has worked with and for the Royal College of Art and the British Film Institute. She has been a guest for a wide range of cultural institutions and art galleries, including Iniva, the Watershed Bristol, Up Projects, Tate, Autograph and the Serpentine Gallery. Karen has lectured and spoken widely about film, race and representation, her areas of research are UK artists' film and video, feminist and post-colonial politics of representation and gender. She co-founded Philomela's Chorus, a moving image commissioning and exhibition platform for women of colour. Karen has recently joined the board of Longplayer and is a tutor at Central St Martins, University of the Arts. Karen is one of our Retrospective guest curators at this year's festival. 
Inti Briones
Inti Briones (1971, Peru) is a cinematographer and producer, best known for his work with different Latin American filmmakers such as Raúl Ruiz, José Luis Torres Leiva, Ignacio Agüero, Cristián Jiménez, Alejandro Fernández Almendras, Dominga Sotomayor Castillo, Walter Salles , Marcela Said and the renowned Peruvian director Melina León for their film Song Without a Name. Settled in Chile, he learned from veteran Chilean filmmakers, including Héctor Ríos, Ignacio Agüero and Raúl Ruiz. In 1996, he was named one of Variety magazine's "10 Cinematographers to Watch." With approximately 43 feature films between fiction and documentary, he has appeared in two Brazilian TV series, Menina Sem Qualidades for MTV and Hebe, for Globo / Globo Play TV.
Sergio Fant
Sergio Fant is a German-based Italian film programmer. After graduating in film studies and training at Cineteca di Bologna, he went on to conceive and curate programmes for, among others, Cinema Ritrovato in Bologna, the Rome Film Fest and the Venice International Film Festival. He has been the Trento Film Festival's Head of Program since 2012. In 2013 he joined the Locarno Festival as programmer, holding the position until 2018. In 2019, he co-curated the 18th DocPoint - Helsinki Documentary Film Festival, and joined the Berlinale - Berlin International Film Festival selection committee. He co-founded and runs the Italian film programming and distribution platform CineAgenzia, and writes a column on documentaries for the Italian weekly Internazionale.
Paula Gaitan
Colombian-Brazilian filmmaker, started as art director of the Cinema Novo classic The Age of the Earth (A Idade da Terra, Glauber Rocha,1978) and directed her first feature, Uaká, ten years later. Since then, has directed dozens of feature films, videos, television series and installations, including Subtle Interferences (2016), about the work of musician Arto Lindsay, Ligth in The Tropics (Forum/Berlinale 2020) and é rocha e rio , Negro Leo (Riverock) - shown at this year's Sheffield DocFest. At the moment, Paula is working in a new film about Ken Jacobs. Having a constant interest in the work of other artists, Paula has filmed people such as Eliane Radigue, Maria Gladys, Agnes Varda, Matana Roberts, Marcelia Cartaxo, Lygia Pape, Renato Berta, Arrigo Barnabé, Elza Soares and Negro Leo.
Hiroko Tasaka
Curator of the Tokyo Photographic Art Museum and Artistic Director of the Yebisu International Festival for Art and Alternative Visions 2022. Born in Tokyo. TASAKA's main projects include Quest for Vision Vol.5 - Spelling Dystopia (2012-13), Shiro Takatani: La Chambre Claire (2013-14), Apichatpong Weerasethakul: Ghosts in the Darkness (2016-17), Japanese Expanded Cinema Revisited (2017), exonemo: UN-DEAD-LINK (2020) and the Second to 13th Yebisu International Festivals for Art & Alternative Visions (2009-21).
UK Competition
From the Amazon to Iraq, the mountains of Cromarty to South London, via the streets of Liverpool and the River Severn, this selection of films contributes in rich ways to the future UK and international film landscape.
Our UK Competition is a selection of 14 independent films that bring unique perspectives.
 Our UK Competition Jury: 
Ashley Clark
Ashley Clark is the curatorial director at the Criterion Collection. Previously, he worked as director of film programming at the Brooklyn Academy of Music, and he has curated film series at BFI Southbank, the Museum of Modern Art, TIFF Bell Lightbox, and the Smithsonian National Museum of African American History & Culture, among other venues. He has contributed writing to publications including Film Comment, Reverse Shot, Sight & Sound, and the Guardian. His first book is Facing Blackness: Media and Minstrelsy in Spike Lee's Bamboozled (2015).
Wood Lin
Born in 1981, he received his MA from the Graduate Institute of Sound and Image Studies at Tainan National University of the Arts. He is a film critic and a festival organiser specialising in documentary, and served as a juror in many international film festivals, like DokuFest, DMZ, IFF Rotterdam, the Golden Horse Awards. He has served as programme director of Taiwan International Documentary Festival (TIDF) since 2013 and now is the programme advisor of International Documentary Festival Amsterdam (IDFA).
Keiko Sei
Keiko Sei is a writer, curator and media activist. After working as a video/media curator in Japan, she moved to Eastern Europe in 1988 to research media situations in the region and started numerous projects including The Media Are With Us!: The Role of Television in the Romanian Revolution (Budapest, 1990), Eastern Europe TV & Politics (Buffalo New York, 1993), lantern magique - artistes tchéques et nouvelles technologies (Strasbourg, 1998), POLITIK-UM/New Engagement (Prague, 2002), and Re-designing East (Stuttgart, Gdansk, Budapest, Seoul, 2009-2013). In 2002 she moved to Southeast Asia to research media situations in the region. In Myanmar she started a film workshop and scholarship program with a cooperation from FAMU and co-founded Wathann Film Festival/Institute in Yangon.
Leonor Teles
Born in Vila Franca de Xira in the outskirts of Lisbon (1992). In 2016, Leonor's second short Batrachian's Ballad won the Golden Bear at the Berlinale Shorts and the Firebird Award in Hong Kong IFF. In 2018, her first documentary feature Terra Franca won the SCAM International Award at Cinéma du Réel, Best First Feature at Mar del Plata and Best Documentary at Malaga IFF. In 2019, her short Dogs Barking At Birds had its world premiere in Venice Orizzonti Competition and was nominated for the European Film Awards. Leonor is preparing her first feature film, UK Kei, winner of the Macao Spirit Award at IFFAM Project Market 2019, selected for Torino ScriptLab 2020 and EAVE 2020.
Leonor also works as a cinematographer.
Campbell X
Campbell X has directed the award-winning queer urban romantic comedy feature film Stud Life, voted by the Guardian as one of the top 10 Black British feature films ever made. It was also in Vogue magazine as one of the best films in 2020. Campbell was one of the writers at the Royal Court for My White Best Friend theatre series, directed and produced the short film DES!RE, and the documentary Visible which headlined the Scottish Queer IFF in 2018. Campbell directed the award-winning TV web series Different For Girls and is one of the directors of the transgender web series Spectrum London. Campbell is the Co-founder with Neelu Bhuman of Wahala Film Fund, for short films by and about QTIPOC people. Campbell is one of our Retrospective guest curators at this year's festival. 
First Feature Award & Short Film Award
Our First Feature Award discovers and honours the future of non-fiction film, celebrating new talent and fresh perspectives. Aour Short Film award presents the best of short films in the festival, made by emerging and established filmmakers from around the world. This award is qualifying for the Academy Awards. This award is sponsored by The Guardian.
Our First Feature & Short Film Award Jury:
Theo Anthony
Theo Anthony is a filmmaker based in upstate New York. His first feature documentary, Rat Film, premiered at Festival del film Locarno and had a broadcast premiere on PBS' Independent Lens in 2018. His follow-up, Subject to Review, produced for ESPN's 30 for 30 series, played at the 2019 New York Film Festival and was broadcast nationally later that year. His most recent feature, All Light, Everywhere, premiered in competition at the 2021 Sundance Film Festival, where it won a Special Jury award.

Agustina Comedi
Agustina Comedi is a screenwriter and filmmaker. She studied Modern Literature. In 2017 her first film Silence is a Falling Body premiered at IDFA. The film was multi-awarded and selected in more than 50 international festivals. Her first short film Playback (2019) received the Best Short Film Award at Mar del Plata IFF, was part of Berlinale Short Film Competition where it got the Teddy Award. Playback has participated in more than 70 festivals including Jeonju IFF, Sheffield DocFest and New Directors/New Films at Lincoln Center. She is currently working on her next film.
 
Alisa Lebow
Alisa Lebow is a documentary filmmaker, scholar, and writer, holding a doctorate in Cinema Studies from New York University. She teaches both undergraduate- and graduate-level courses in film studies at the University of Sussex, UK, and conducts research that explores the intersection of the aesthetic and the political in documentary film and related media. Alisa has written extensively on first person film as a culturally and ideologically imbricated practice of identity production. She is intrigued by the intersection between practice and theory, and her most recent work attempts to perform film studies intermedially. With Alexandra Juhasz, Alisa started the online, community based manifesto Beyond Story, published in World Records, that gave origin to Sheffield DocFest series of panel discussions and study groups (2019 and 2021).
Tim Hetherington Award
This award recognises a film and filmmaker which best reflects journalist Tim Hetherington's legacy. This award is sponsored by Dogwoof.
Our Tim Hetherington Award Jury:
George Amponsah
George Amponsah is a multiple award winning BAFTA nominated filmmaker who first started taking pictures in the 1980s as a photographer and Super 8mm film enthusiast. George's most recent directing work is Black Power, a 90 minute film exec produced by Steve McQueen for the BBC. Black Power examines how the British Black Power moment came into being in the late 1960s and fought against police brutality and racism. 2019 saw George working as director on Enslaved – an inspirational six-part documentary series (BBC2) hosted by Academy Award nominated actor Samuel L. Jackson that brings home the horror of slavery to the world through underwater archaeology. George's feature length documentary The Hard Stop was nominated for a BAFTA in 2017 in the Outstanding Debut category. George is one of our Retrospective guest curators at this year's festival. 

Pooja Rangan
Pooja Rangan is an Associate Professor of English in Film & Media Studies at Amherst College. She researched and writes about the humanitarian preoccupations of contemporary documentary culture, as they intersect with and open onto questions of voice, listening, accent, and disability.
During 2020-21 Pooja is an ACLS Burkhardt Fellow in Residence at NYU's Center for Media, Culture, and History, and an affiliate at NYU's Center for Disability Studies. She is also at work on two collaborative projects: an anthology of essays titled Thinking with an Accent, and Abolition Documentary, a collaboration with director Brett Story. Pooja serves on the advisory boards of a number of documentary publications and organizations, and has served as Board President of Flaherty from 2018-2020.
 
Youth Jury
This award is selected by some of the UK's most passionate and stand-out young documentary lovers.
Our Youth Jury:
Nafsika Hadjichristou
Nafsika is a documentary filmmaker and photographer from Cyprus, recent graduate from Film & TV Production at the University of York. "I've been in love with Sheffield DocFest since attending for the first time in 2018, and being part of the Youth Jury is a dream role. We get such an insight into the intriguing and complex worlds of films, festivals, art, and the whole planet, while working with wonderful individuals. I can't wait to get started!"
Follow Nafsika: https://nafsikah.wordpress.com/
Reba Martin
Reba is 23 years old from Bristol, currently living in Edinburgh by way of Manchester. She has been writing about programming and marketing, and helping to make films since she got the bug as an impressionable teen. "I am so excited to discuss and obsess over films with my fellow Youth Jury members, learning to be part of a critical team. I am looking forward to spending so much time looking at documentaries, exploring DocFest, and discovering what goes into putting on such a wicked festival."
Follow Reba: @discorebekah
Gethin Morgan
Gethin is a journalist currently working for The Culture Trip but looking to specialise in film. Born and raised in Ceredigion, rural West Wales, he studied journalism at The University of Sheffield, falling in love with the city and its premier film festival – so much so that he has stayed in Sheffield since graduating in 2019. Gethin is a huge fan of documentary cinema and has attended the festival every year since arriving in the city. He is particularly fond of cinema vérité, and looks for complexity, originality and humanity in documentary. His favourite films from Sheffield Doc Fest in recent years include When Lambs Become Lions, Midnight Family and Le Kiosque. "I'm so delighted to be a member of this year's Youth Jury. Having attended the festival while studying at the University of Sheffield, I'm already well aware of how vibrant, exciting and inspiring an event it is. I cannot wait to return to that space in a bigger capacity, exposing my eyes and ears to some truly special pieces of filmmaking, as well as having the opportunity to meet so many amazing people in the industry."
Follow Gethin: @GethinRMorgan
Natalie Peteranna
Natalie is a Scottish Film and Media Graduate, who grafts as a Marketing Assistant for Yellow Cherry Digital. "I feel really honoured to represent Sheffield DocFest as a Youth Juror. As our industry recovers from the global and unanticipated challenges of last year, I'm sure that this retention will be as robust, inspiring, and inclusive as ever. It is thrilling to connect with fellow Jurors. What a unique opportunity to explore and evaluate sensational documentaries as a team!"
Follow Natalie: @natpeteranna
Martha Robinson
Martha is a third year Geography student at the University of Leeds, and is passionate about raising awareness of social injustice through the medium of film. "I am extremely excited by the opportunity to be on the Youth Jury at such a diverse, innovative and thought-provoking film festival. I am looking forward to critically discussing a range of unique and challenging documentaries with a team of passionate, like-minded young people while immersing myself in the vibrant festival atmosphere."
Follow Martha: @martharobinsonn

Now you've met our jurors, why not find out what films are up for awards and in our competitions? Step this way.