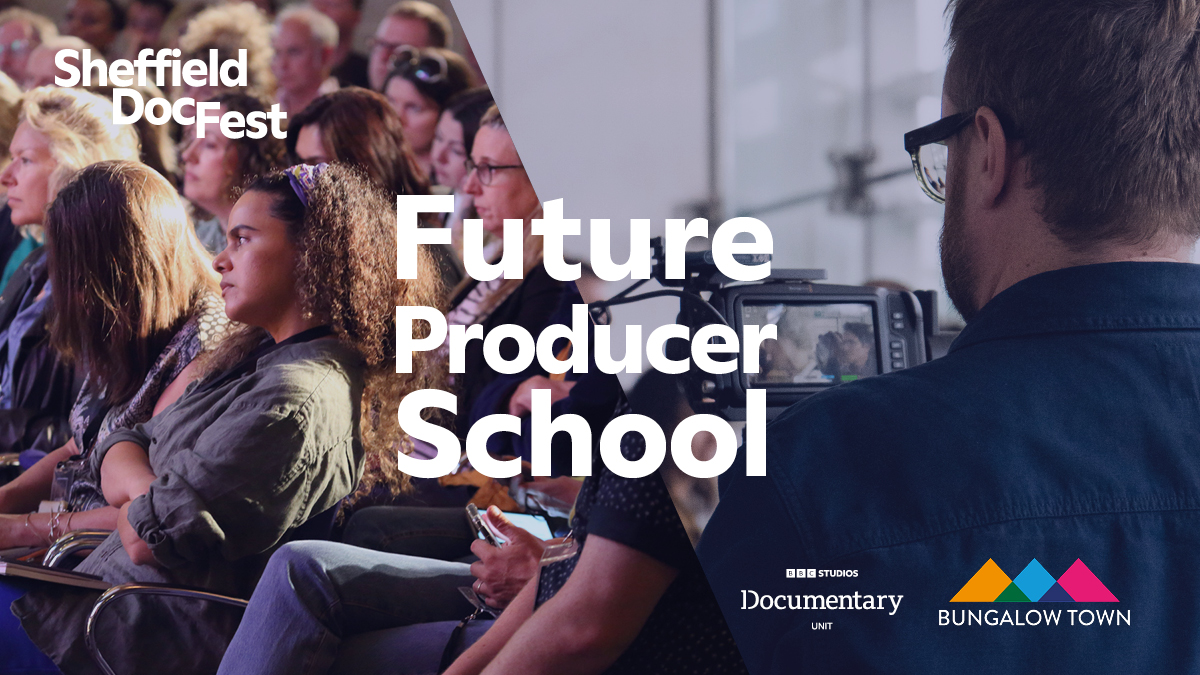 Applications have now closed.
Future Producer School, created by Sheffield DocFest and Bungalow Town Productions, has returned! Established in 2014 and successfully running until 2019, the scheme is back to develop documentary producing talent. 
Aimed at emerging producers currently working in the industry, the primary outcome of Future Producer School is to develop industry partnerships and provide industry knowledge and experience to up-and-coming producers that have the ambition to become international feature documentary producers.
Future Producer School will help producers with limited exposure to key experience necessary in delivering feature documentary projects – in finance, distribution, production management, pitching and presenting projects to the industry in the UK and internationally. 
Future Producer School consists of a residential lab, one-to-one mentoring, one-to-one meetings and networking. The programme also prides itself on creating a network of talented and dynamic alumni who continue to support each other long after the course has finished.
Meet the Mentors: Bungalow Town Productions
Since Rachel Wexler and Jez Lewis set up Bungalow Town in 2004 they have made a unique mark in the world of documentary. Based in rural England, they make highly individual and compelling documentaries for worldwide audiences.They have made an array of features and several shorter films working with many talented filmmakers from the UK, North America and Japan. These films document an incredible array of stories, subjects and characters. From the story of the Afghan cricket team in their quest to get to the global stage in Out of the Ashes, to a renowned brain surgeon's journey to save lives in the Ukraine in The English Surgeon, and most recently Elephant Mother, about a Thai woman's epic battle to save elephants from abuse in the tourist industry, Bungalow Town seek to explore universal, human themes through a complex, specific and real-life prism.  
Bungalow Town films have exhibited at innumerable film festivals including Sheffield DocFest, Edinburgh, London, Sundance, Karlovy Vary, Hotdocs, Krakow, Full Frame, Silverdocs and IDFA. They have also been distributed via every deliverable medium worldwide including on the big screen. Bungalow Town have won dozens of awards, including a Grierson, an Emmy and two Peabodys.
Who can apply?
You should want to develop feature documentaries with the ultimate goal of multi-platform releases in several international markets.

You will have some professional experience behind you – this programme is not an entry-level talent programme.

You should be working and living in the UK.

You will have some experience of reaching audiences already (whether online, on TV, at festivals, on DVD or elsewhere) and will be aspiring to make the step up to making a first or second feature documentary and reaching broader audiences.

You should be motivated to join a network of committed and mutually supportive filmmaking peers.

We are proactive in selecting a diverse group of producers, and actively encourage producers from diverse backgrounds to apply.

You should be working on or have an idea for a feature documentary that you would like to consider during the course, and apply the principles and knowledge learned.
How do I apply?
**Applications have now closed**
 From the applications, there will be 15 participants selected. The programme has a fee of £550.00 per participant.
The fee includes:
3 day residential with workshops led by industry specialists

4 hours of one-to-one mentoring from Bungalow Town Productions' mentors Rachel Wexler and Jez Lewis

An Industry Pass for Sheffield DocFest 2023 (standard pass price is £330 + VAT) with access to film screenings, the Alternate Realities programme, Talks & Sessions, Marketplace sessions, networking receptions and parties. (If you have already purchased a pass to the Festival we will be unable to refund this as per our Refund Policy).
We monitor the diversity of our participants in the projects that we run. For the purposes of reporting to our key funders we ask that you help us by clicking here to complete the questionnaire anonymously.
Testimonial
"If The Streets Were On Fire, my first feature doc, had its world premiere at the BFI London Film Festival, which went really well. We had two sold out screenings, with incredible audiences. The film received a standing ovation at the premiere, which meant the world to the team and contributors. And we even got second place in the LFF Audience Awards - which is a little surreal given the range of films at the festival. 
I am keenly aware that I would not have done any of this if not for the Future Producer Scheme, as well as all of your help and support over the years! Future Producer School was inarguably the most important step in my documentary career, putting me on a direct path towards making docs. I'm so thrilled to hear that it's coming back, as it's the one scheme I always praise and want to recommend - so I'm glad there'll be opportunities for new filmmakers to be part of that journey. Once again, from the bottom of my heart, thank you so very much for everything!" – Gannesh Rajah, Future Producer 2018
Programme Overview
January/February 2023
Deadline for applications have been extended to Wednesday 15 February, 17:00 GMT.
You will hear about the outcome of your application in mid/late February. 
April 2023
A three-day residential with workshops led by specialist producers, guest tutors and the course leaders. Previous residential guests have included Julie Goldman (Ai Weiwei: Never Sorry, Life, Animated, God Loves Uganda) Lizzie Gillett & Franny Armstrong (Age of Stupid, McLibel), Nikki Parrott and Natasha Dack-Ojumu (Only When I Dance, McCullin), Signe Byrge Sorensen (Act of Killing, The Look of Silence), Sara Stockmann (Armadillo, Mercy Mercy), Mandy Chang (previously of BBC Storyville), and Oli Harbottle (Dogwoof, sales and distribution). 
April - June 2023
One-to-one mentoring and support from Bungalow Town Productions' mentors Rachel Wexler and Jez Lewis. Course participants will have access to four hours of mentoring from any time after the April residential through to six weeks after Sheffield DocFest 2023.
June 2023
Networking with the industry at Sheffield DocFest – sessions at Sheffield DocFest in June 2023 with leading industry representatives.
July 2023 onwards
The 2023 Future Producers will then be invited to join the Future Producers School alumni network. Alumni have gone on to work with high profile funders and directors on award-winning projects.
Any Questions?
If you have any queries about our Future Producer School programme, or if you would like to participate as a mentor, speaker, or sponsor, please contact the Industry team at industry@sheffdocfest.com
Partners

BBC Studios
The Documentary Unit at BBC Studios is the home of high quality, thought-provoking and award-winning factual television.
Bungalow Town Productions
Bungalow Town Productions are Emmy Award-winning producers of unique documentaries for worldwide audiences.