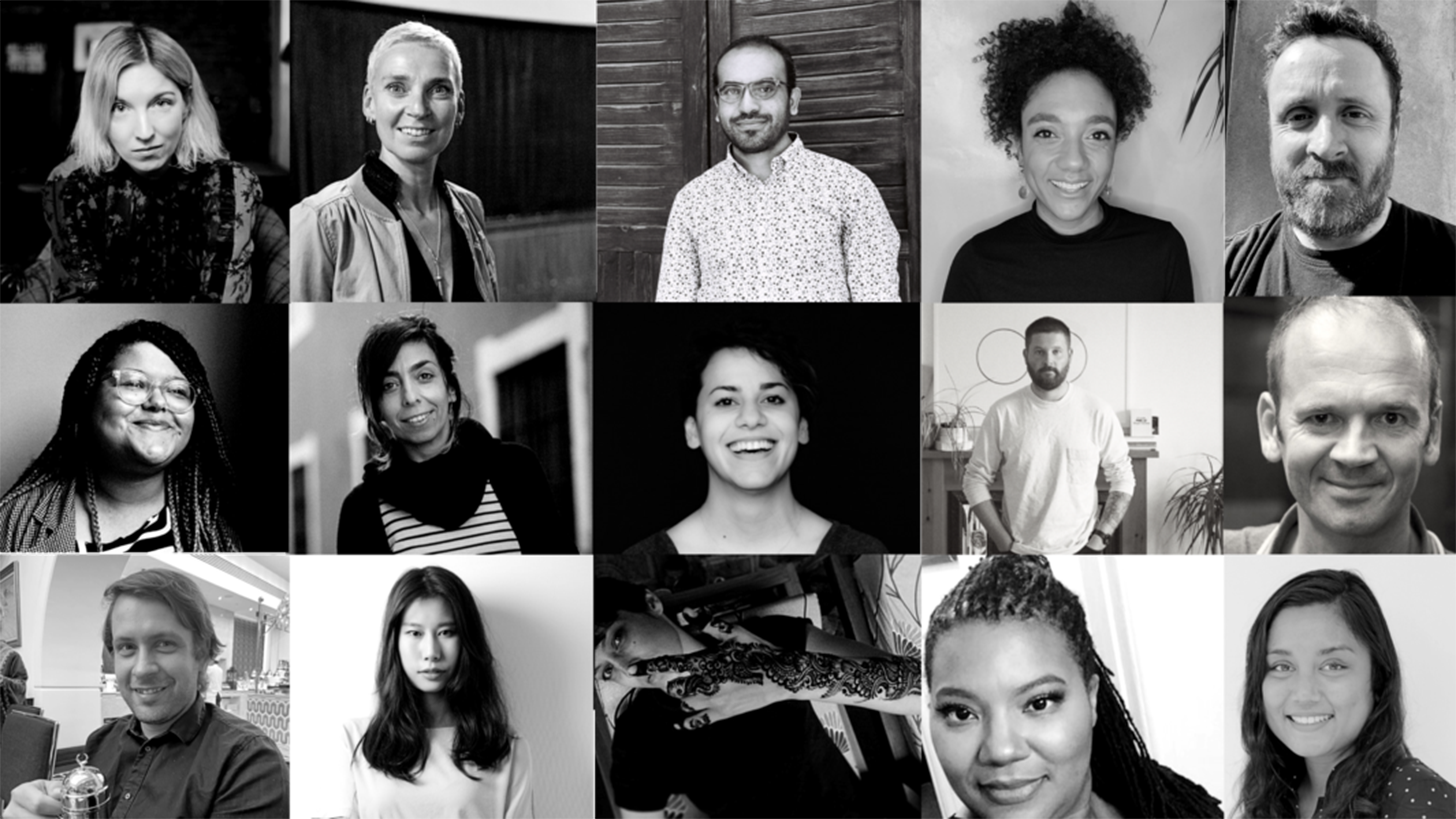 Every year, we enlist external industry professionals and practitioners as assessors in the selection process for the MeetMarket and Arts Talent Market, representing a variety of professional and regional perspectives.
The 2021 assessors are from Argentina, Canada, Indonesia, Egypt, Germany, Korea, Russia, the United Kingdom and the United States. The MeetMarket assessors' collective expertise covers production, development, international sales, distribution, exhibition, festivals and impact strategy. The Arts Talent Market assessors are experienced in digital producing, new media curation, and exhibition.
You can read more about our 2021 assessors below. You can also read about our 2021 MeetMarket and Arts Talent Market selected projects & teams here.
Alyona Bocharova - Co-Founder and Managing Director, Beat Films, Russia
Beat Film Festival Co-Founder and Managing Director, Beat Films CEO. Ex-Artistic Director of the Pioner Cinema, curator at the Documentary Film Center.
Anja Dziersk - Festival Manager, Rise And Shine World Sales, Germany
Together with her partner Stefan Kloos, Anja Dziersk founded RISE AND SHINE WORLD SALES, today one of the world´s leading international boutique size sales agents. RISE AND SHINE markets and sells outstanding documentaries to broadcasters and distributors around the world. With an average of 15 new films per year the exquisite catalogue of award-winning films from all over the world includes RAVING IRAN, GENESIS 2.0, WHEN TOMATOES MET WAGNER, GARAGE PEOPLE and Hi, AI.
Ayman El Amir - Independent Producer, Egypt
Ayman El Amir, is an Egyptian film producer and script consultant. He has worked as a script consultant for many programs, labs and institutes including TorinoFilmLab, Full Circle Lab, The Film Prize of the Robert Bosch Stiftung and International Marrakesh Film Festival Atlas Workshop. As a producer, his work includes the short fiction, FAKH, selected for the official competition of Semaine de la Critique at Cannes Film Festival 2019 and the feature documentary HAPPILY EVER AFTER, premiered at IDFA 2016.
Carmen Thompson - Researcher + Curator, UK
Carmen (she/her) is a curator, researcher and creative producer based in Scotland, with a specialist interest in cinema from the African continent and its diasporas. Alongside research in documentary film at the University of Edinburgh, she works for Africa in Motion Film Festival – co-directing its 2020 edition - and for distribution company Aya Films. Carmen also serves on the board of Document Human Rights Film Festival and as a programme consultant for CAMPLE LINE and We Are Parable. 
Chris Harris - Director and Programmer, True Story, UK
Chris has been a programmer at Picturehouse Cinemas since 2007, and founded the Picturehouse DOCS strand, showcasing director Q&A tours and the best new releases. In 2020 Chris launched TrueStory.film, an independent streaming platform dedicated to documentaries, available to audiences worldwide.
Delphine Lievens - Senior Box Office Analyst, Gower Street Analytics, UK
Delphine Lievens is a Senior Box Office Analyst for Gower Street Analytics where she implements box office analysis and forecasting for the UK and other international markets, working with a range of film studios and independent distributors. She started her career as a trainee at Altitude Film Distribution and later she was Theatrical Sales Executive there for over 2 years, working on a variety of critically acclaimed films including MOONLIGHT, LADY MACBETH and I AM NOT YOUR NEGRO. Delphine is passionate about diversifying the workforce in the screen industries to be more representative across race, class, and gender.
Heejung Oh - Founder + Producer, Seesaw Pictures, Korea 
Heejung Oh is the founder/producer at Seesaw Pictures, a boutique production and sales company in Seoul with a slate of award-winning films. She has produced documentary and fiction films that have strong records both in theatrical release and international festivals such as Berlinale, IDFA, CPH:DOX. She is working with young and seasoned filmmakers with artistic visions and powerful questions. She is specialised in international co-production and an alumni of Eurodoc and Rotterdam Lab.
Kirill Sorokin - Co-Founder, Beat Films, Russia
Kirill Sorkin is the co-founder of the Beat Film Festival and Beat Films, artistic director and film producer. He has served as a juror international festivals including CPH:DOX and Visions du Reel. In 2020, Kirill started Beat Consulting for creative documentaries and branded content.
María Vera - Festival Distributor & Sales Agent, Kino Rebelde, Portugal
Festival Distributor and Sales Agent born in Argentina. Founder of Kino Rebelde, a company focused on creative distribution of non-fiction, experimental and hybrid narratives. Her films have been selected and awarded in festivals as Berlinale, IFFR Rotterdam, IDFA, Visions Du Réel, New York FF, Hot Docs, Jeonju IFF, Sheffield Doc/Fest, Sarajevo FF, Doclisboa and Viennale, among others. María has a background as producer of socio-political and human rights contents as well as a film curator.
Stefan Kloos - Managing Director, Rise and Shine World Sales, Germany
Stefan Kloos heads Rise and Shine, one of the leading sales agents for documentaries, and Kloos&Co. Medien, one of the most active German production companies for international co-productions for cinema and TV. He is a Grimme Award and Cinema Eye Honors–winner, a member of German and European Film Academy.
Toni Bell - Impact Strategist, Looky Looky Pictures, USA
Toni Bell is the Impact Strategist for Looky Looky Pictures and has worked with the films Councilwoman, First Vote, and others. She's been a mentor and industry representative at Hot Docs, Sheffield, Korea Communications Agency, Big Sky, and more. She's the former Filmmaker Services Manager at the IDA, where she oversaw the fiscal sponsorship program. She's an archival researcher and is currently working on Byron Hurt's latest film, Hazing. She's the creator/host of the "What's Up with Docs" Podcast.
Varadila Nurdin
Docs By The Sea Program Director, In-Docs, Indonesia
Since 2014, Varadila has managed various In-Docs' programs to incubate talents and documentary projects including Docs By The Sea, IF/Then SEA, and Dare to Dream Asia. As current Program Director of Docs By The Sea, she is responsible for fundraising, designing the program, developing partnerships, and overseeing its implementation. Before joining In-Docs, Vara had years of experience in festival programming and film festival management. She was a film programmer for minikino, Jakarta International Film Festival, XXI Short Film Festival, and Erasmus Huis International Documentary Festival. Her passion is to connect Southeast Asian documentaries with the international industry and multi-sector stakeholders in the region and beyond. She is a graduate of the University of Indonesia and SOAS University of London.
Arts Talent Market Assessors
Charmian Griffin - Head of Digital, Artangel, UK
Charmian Griffin is Head of Digital at Artangel, a London-based organisation that creates extraordinary art in unexpected places. She is responsible for Artangel's digital strategy and commissions, such as Red Lines (2018), The Cutting Room (2020), and Jerusalem (2014). She teaches art criticism at Central Saint Martins and works as a freelance digital producer for clients including Idle Women, Roald Dahl, and Tate.
Eoin Dara - Head of Exhibitions, DCA, UK
Eoin Dara is an Irish curator living on the east coast of Scotland. He works as Head of Exhibitions at Dundee Contemporary Arts and has recently been collaborating with and learning from artists like Margaret Salmon, Patrick Staff, Emma Talbot and Alberta Whittle and writers like CAConrad, Quinn Latimer, Christina Sharpe and Isabel Waidner.
Katayoun Dibamehr - New Media Curator, Festival des Nouvelles Cinema, Canada
Born in Tehran Iran, since 2009, she worked in the festival scene (MUTEK, POP Montreal, RIDM and FNC) and began curating new media projects at Montreal's Festival du nouveau cinema since 2015.In 2018, she started her collaboration with Floréal Films based in Paris. Her projects has been part of XR manifestations like Dev Lab, Venice Biennale College, Venice Production Bridge, MIFA at Annecy, Sheffield DocFest and Sundance New Frontier Lab also at official selections at Tribeca Film Festival, Venice International Film Festival, Annecy International Animation Film Festival etc. She is behind the award-winning VR projects MINIMUM MASS by Raqi Syed and Areito Echevarria (Cristal Award for Best VR project at Annecy) and The Hangman at Home by Michelle and Uri Kranot (Grand Jury Prize for Best VR work in Venice Film Festival).