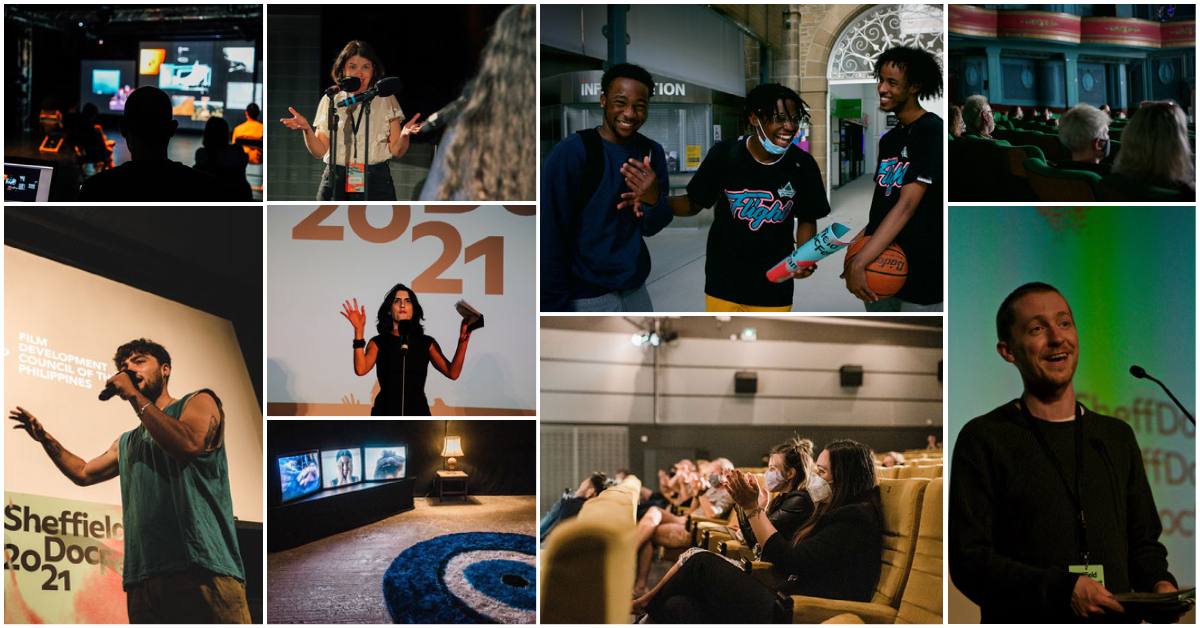 Our Festival Report is here – take a look at the year in review.
In June 2021, we held the 28th edition of our festival – a ten-day event, celebrating, championing and debating documentary film and art. Our hybrid festival was presented online, physically in Sheffield, and in 16 cinemas across the UK. This year's edition was the most accessible to date, welcoming 45,334 admissions. 41,520 attendees engaged with our programme online, and a further 3,814 were able to join us here in Sheffield. A total of 2,056 industry delegates from 70 countries attended the festival online, including ​a record 358 industry representatives and buyers.
"Despite the challenges of programming during a pandemic, the Sheffield team has pulled together an impressive lineup."- Tim Dams, Variety
This year's edition featured 191 film programme shorts and features, contemporary and retrospective, from across 64 countries with 47 languages represented. Our Arts Programme featured over 35 artists and collectives from around the world, showing a total of 42 artworks.  
The programme featured 9 dedicated Community Screenings, 3 live performances, 6 online workshops and 1 in-person workshop. All screenings included English subtitles or open captions with descriptive text. This content ran alongside 22 wider screenings giving further opportunities for people to access content in person and online. 
"The festival has a long tradition of representing a wide slice of society through the medium of film, and this year's line-up is testament to that."- Lydia Rostant, Little White Lies
Public audience demographics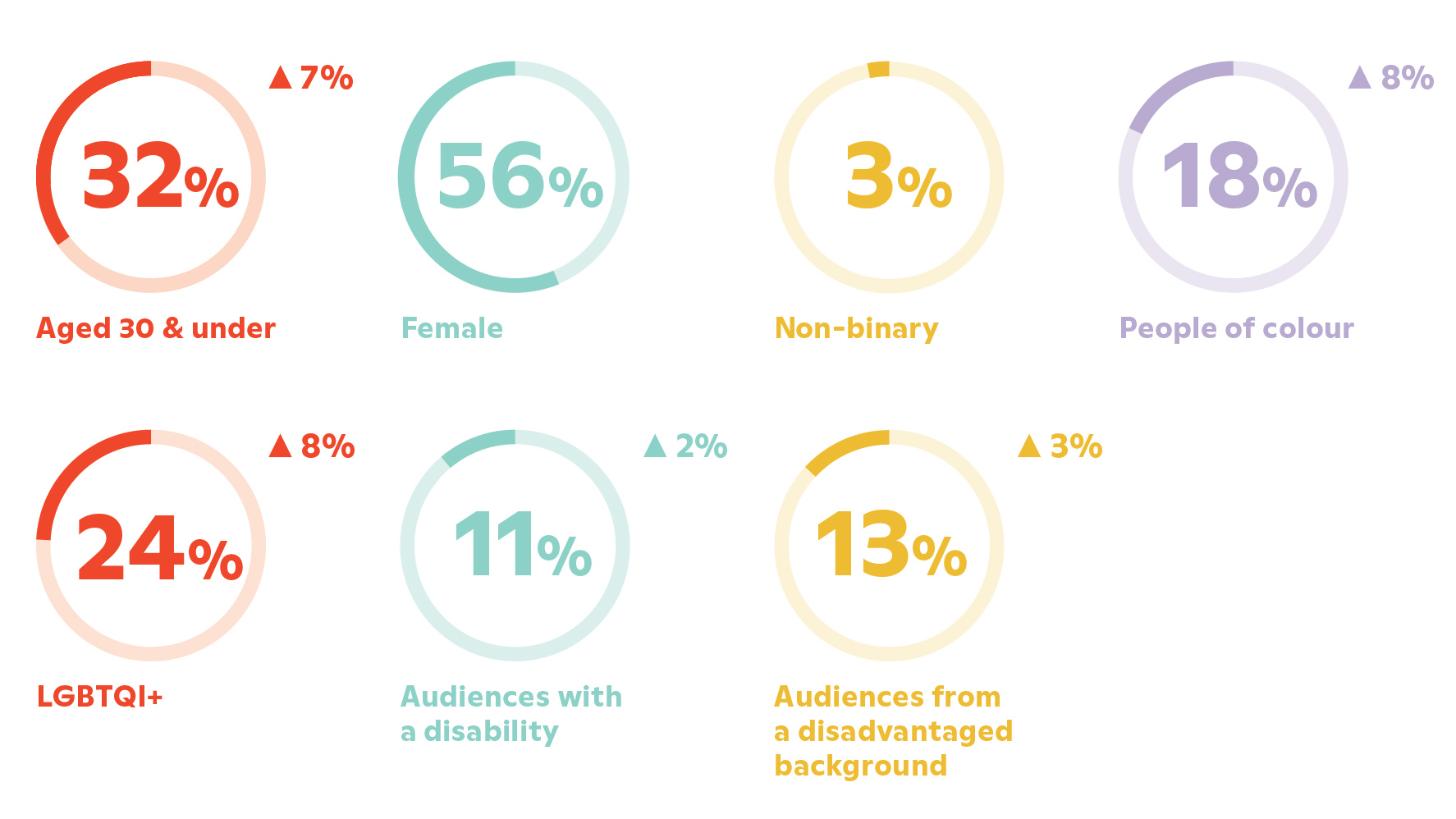 Thanks to a programme-led approach to diversity combined with outreach initiatives, we were able to reach a greater and fuller range of audiences, including those from areas of low engagement, as part of our ongoing commitment to make documentary as accessible as possible to all.
32% of our public audiences were 30 & under, 56% identified as female, 18% were people of colour, 24% identified as LGBTQI+, and 48% of were attending our festival for the first time. 
Industry delegate demographics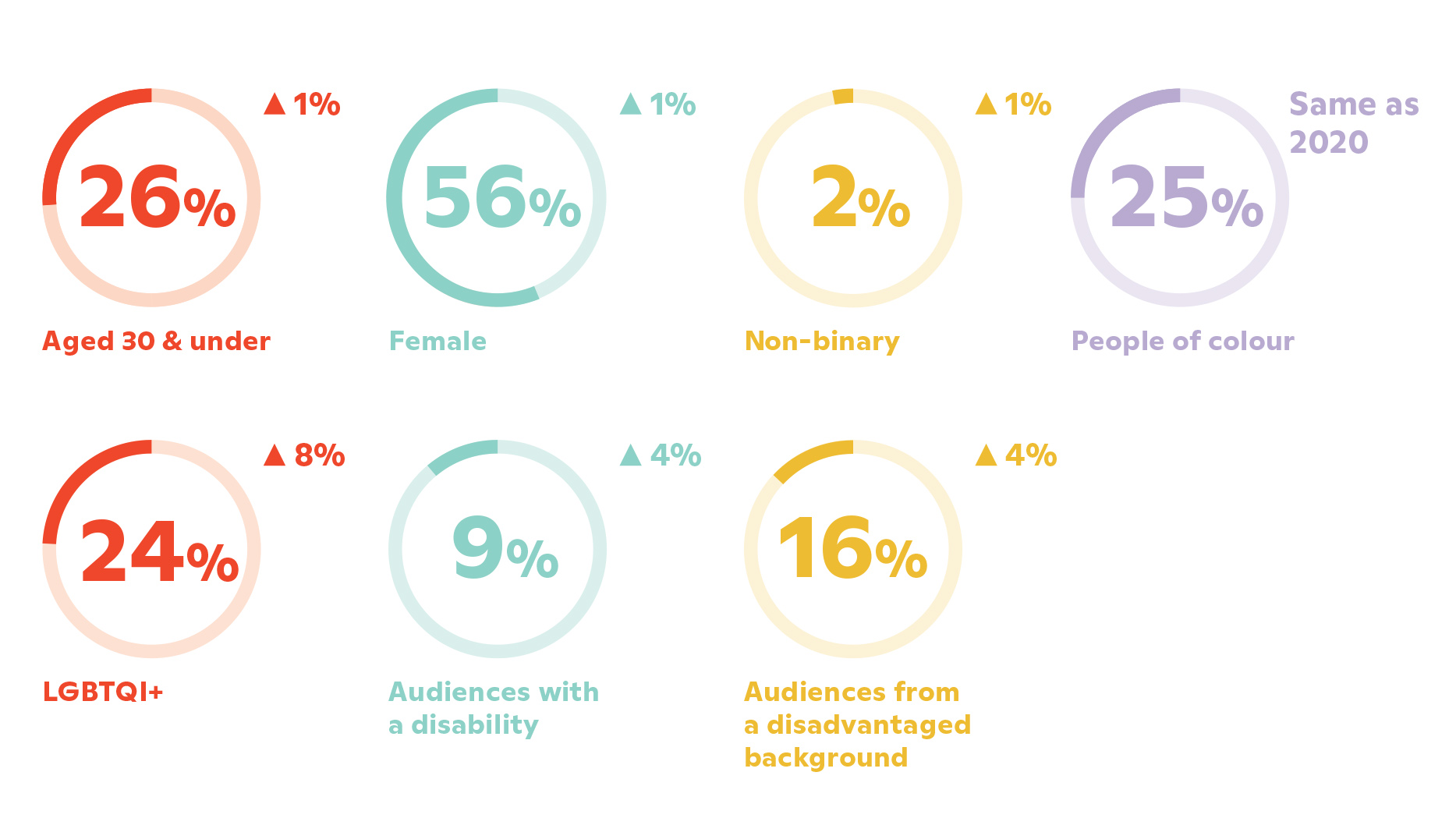 Of our industry audiences engaging with the festival 26% were 30 & under, 56% identified as female, 25% were people of colour, 24% identified as LGBTQI+, and 45% said that this edition was their first festival.
Top 10 Films Rated by our audiences
As chosen by you, here are the Top 10 Films from our 2021 Programme:
1. Charm Circle (dir. Nira Burstein / USA / World Premiere) Audience Award and First Feature Award Special Mention winner
2. Maisie (dir. Lee Cooper / UK / World Premiere)
3. Sing, Freetown (dir. Clive Patterson / USA, UK / World Premiere)
4. Summer of Soul (dir. Ahmir "Questlove" Thompson / USA / European Premiere)
5. Don McCullin: Almost Liverpool 8 (dir. Daniel Draper, Allan Melia / UK / World Premiere)
6. I Get Knocked Down (dir. Sophie Robinson / UK / World Premiere)
7. Who We Are: A Chronicle of Racism in America (dir. Emily Kunstler, Sarah Kunstler / USA / UK Premiere)
8. The First 54 Years - An Abbreviated Manual for Military Occupation (dir. Avi Mograbi / France, Finland, Israel, Germany / UK Premiere)
9. Portrait of Kaye (dir. Ben Reed / UK / World Premiere) UK Competition Special Jury Award Winner
10. Uprising (dir. Steve McQueen, James Rogan / UK / World Premiere)
Top 5 Talks rated by our audiences
1. The Story of Looking: In Conversation with Mark Cousins
2. BBC Interview: David Olusoga
3. The Return: Life After ISIS - Reframing the Narrative
4. The Art of Staging Reality: Marc Isaacs in Conversation with Jon Bang Carlsen
5. Stories of Other Animals (DocFest Exchange Programme)
Thank you to everyone who joined us together in Sheffield and online this year to celebrate the 28th edition of our festival, we look forward to seeing you all again in 2022. For now, you can take a closer look at our year in review, by reading the full report and findings here.