Tue 8 June 19:00
UK Broadcast Production Talent Market Online
1h 00min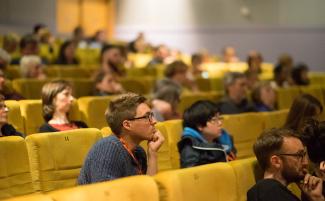 Through authentic storytelling, disabled filmmakers are demanding representation, refusing ableist conventions, and attracting critical recognition along the way. The time is now to dismantle barriers across the doc sector and power authentic inclusivity, representation and accessibility for D/deaf and disabled talent. Meet the filmmakers who are reshaping the narrative and dive in to the newly launched BFI Doc Society funded FWD-Doc Engagement Pack with us. The FWD-Doc Engagement Pack is aimed at providing easy-to-use resources and information for the film industry about how to engage effectively, respectfully and creatively with disabled film talent and audiences, and it's designed to empower all areas of the independent film sector (from distribution, exhibition and festivals to decision makers across awards and funding, and filmmakers). This panel is a call to all those across the industry who are committed to inclusivity, visibility and the huge creative and economic opportunities of engaging with the world's 1 billion disabled people at last.

This session is moderated by filmmaker James LeBrecht (he/him) co-director of Oscar nominated Crip Camp and founding member of FWD-Doc: Filmmakers with Disabilities).
Speakers include: Director & Producer, and founding member of FWD-Doc: Filmmakers with Disabilities, Lindsey Dryden (she/her), filmmakers Kit Vincent, Director of Red Herring (he/him), Ella Glendining, Director of Is There Anybody Out There? (she/her), Jason  DaSilva, president and founder of AXS Lab and Fund (he/him) and BFI Doc Society Fund Executive Lisa Marie Russo (she/her).

This talk will be available to live stream for all Online Industry Pass holders on our Doc/Player platform. All live-streamed talks will be captioned, provided by AI Media.
This event will also be BSL interpreted. 
Supported byBFI Doc Society and FWD-Doc.