Sun 13 June 15:15
Zoom
1h 00min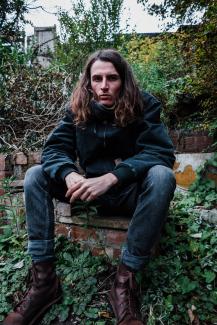 A participatory workshop inspired by From the 84 Days, discussing how to use free accessible materials to make art based in the environment around you.
Watching the film beforehand is recommended but not essential. We have some free places for the film as part of the Community Programme. Please email us at community@sheffdocfest.com if you would like one of these.
An alternative & progressive take on folk and song-writing, exploring themes on social politics, history and environment with musician and artist Jim Ghedi. Whilst Jim Ghedi's previous idiosyncratic take on folk has often been instrumental, exploring the natural world and his relationship to it through his music, as seen on 2018's 'A Hymn For Ancient Land'.
His new album 'In The Furrows Of Common Place' is a deeper plunge inside himself to offer up more of his voice to accompany his profoundly unique and moving compositions. Departing away from previous work, here he draws from social-political observations, contemporary songwriting, historical & traditional material and a rich varied number of other inspirations and sources, such as the poetry of John Clare, the writing of Robert Macfarlane and the works of South Yorkshire legend Barry Hines.

Register HERE for your free place and to receive details on how to join.