Fri 11 June 11:00
DocFest Exchange Online Cinema
2h 31min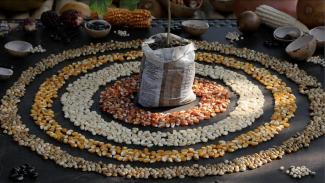 Today's DocFest Exchange highlight film is 
Who is Afraid of Ideology? Part III - Micro Resistances
(2020).
Who is Afraid of Ideology? Part III - Micro Resistances (2020) Marwa Arsanios
Marwa Arsanios'
Who Is Afraid of Ideology?
series (2017-2020) weaves an intersectional path through the struggles of women fighting for the right to autonomy and land.
Part III - Micro Resistances
takes place in Tolima, Colombia and focuses on the ongoing systemic war waged by transnational corporations against one of the smallest and most essential elements of life − the seed.
This film will be available to watch online until Sun 14 Jun, as part of the DocFest Exchange: Beyond Our Own Eyes programme.
The DocFest Exchange is a year-round curated programme exploring themes of climate justice and the health of the planet. This year's DocFest Exchange programme, titled Beyond Our Own Eyes, invites us to appreciate perspectives beyond our own, asking what possibilities emerge when we open ourselves to other ways of seeing the world.
The full programme - including film screenings, talks, and workshops – will be available online from 4 - 13 June. Check out the full programme
here
.