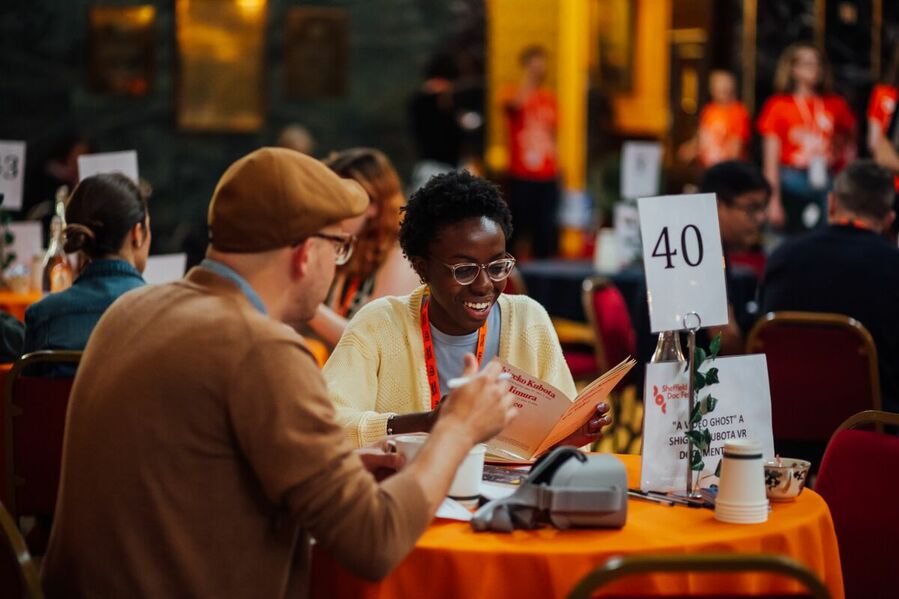 22 Arts Talent Market teams have been selected to present to industry partners at the 16th edition of Sheffield DocFest's flagship pitching forum.
The Arts Talent Market represents talent from all across the wide spectrum of nonfiction art, providing a space to discuss new projects in development and create important artist-to-industry connections. We invite a range of Industry Representatives that are able to provide opportunities for creators, from gallery or cinema exhibition, to funding, residencies, co-production, and collaborations. Participants include institutions such as the Tate, MoMA, ARTE, HTC Vive, SXSW, IFFR, MUTEK, and Venice Film Festival.
There are 22 participants in the Arts Talent Market this year, reaching a wide range of regions from around the world. The 22 projects cover over 20 different production/co-production countries between them including Australia, Belgium, Brazil, Canada, China, Czech Republic, Denmark, France, Germany, Haiti, Hungary, Iceland, Ireland, Mozambique, Peru, Poland, South Africa, United Kingdom, United States, and Zambia. The format of the work is an almost equal split between immersive VR/AR, and video art or installation pieces – the unifying factor being an artist-led, experimental approach. 
Among the many themes of the projects, artists discuss re-examined diaspora narratives, highly personal experiences of death and depression, and ongoing consequences and reactions to the climate crisis. With individual esoteric pieces discussing subjects such as hydro-feminism, the histories of seaweed and graffiti, and neurodisabled dance performance.
The selections for the Arts Talent Market were made with the involvement of external assessors: Charmian Griffin (Head of Digital - Artangel, UK), Eoin Dara (Head of Exhibitions - Dundee Contemporary Arts, UK), Katayoun Dibamehr (New Media Curator - Festival des Nouvelles Cinema, Canada).
The Arts Talent Market is produced by Harry Løvstrøm. 
Contact: harry.lovstrom[at]sheffdocfest.com
ARTS TALENT MARKET PROJECTS 2021
15 Iranian Years
United Kingdom
Director: Adonia Bouchehri
The filmmaker revisits her mother's childhood memories of pre-revolutionary Iran.
A Journey To Stillness
United Kingdom
Director: Anita Safowaa
After travelling 3000 miles to the land of milk and honey, what happens when it doesn't meet your expectations?
As The Floor Shifts
United Kingdom
Director: Nikki Watson
A digital dance experience that tells the hidden stories of people affected by neurological conditions
Darkening
Czech Republic
Director: Ondřej Moravec | Producer: Hana Blaha Šilarová
How is the world perceived by someone with depression? Through the story of Ondrej we enter the world of Darkening. The animated film uses VR to show the dark images of the mind and the calming techniques.
Isn't It A Beautiful World
United Kingdom
Director: Joseph Wilson | Producer: Emma Kroeger
Isn't It A Beautiful World depicts the traumatising stories of queer performers Soroya (Black, Female), Harry (White, Non Binary) & Kenya (Black, Trans Male) who, through lip-syncing, explore themes of loneliness, anxiety, trauma and recovery, all common issues within the LGBT+ community.
Kvöldvaka
United States, Denmark, Iceland, Hungary
Directors: Dane Christensen, Carol Dalrymple | Producer: Barna Szász
A magical take-it-to-nature AR documentary inspired by Icelandic folklore redefining our relationship with the environment in an era of climate change.
Life and Death at Palcacocha Lake
Belgium, Germany, Peru
Director: Alexander Luna | Producer: Hervé Verloes
Eduardo, an indigenous supervisor of the security project at Lake Palcacocha in the heart of the Cordillera Blanca in the Peruvian Andes, communicates in his dreams with the spirits of the glaciers and mountain lakes surrounding him, they tell him what to do to protect the population in the lower-lying regions from their unpredictable and sometimes deadly power.
Life Is About Losing Everything
Germany
Directors: Benjamin Ramirez Perez, Stefan Ramírez Pérez | Producer: Miriam Gossing, Lina Sieckmann
Part feminist artist portrait, part fantastical memoir, the hybrid doc Life Is About Losing Everything explores Canadian poet Lynn Crosbie's life and work: Loss and love are examined through the lens of pop-culture and art.
mosaic/فسيفساء
United Kingdom
Directors: Layla Madanat, Eleanor Nawal | Producer: Sarah Hamed
Fragments of lives of South-West Asian and North African youth from across the global diaspora come together in a multi-sensory installation to tell a new story of art's least represented region.
Music for Solo Performer
Ireland
Director: Jenny Brady
Part-homage, part-sequel, Music for Solo Performer sets up a generative process between Alvin Lucier's 1969 composition for amplified brainwaves, speech synthesis and the passing of the filmmaker's mother.
MYRIAD. Where we connect.
Germany, Canada, Zambia, China, South Africa
Directors: Lena Thiele, Sebastian Baurmann, Dirk Hoffmann | Producer: Saskia Kress, Michael Grotenhoff
Immerse yourself in the science of life. Join the journey that spans the globe and find your place in it. MYRIAD. Where we connect makes use of scientific research, cinematic documentary footage, artistic style, 3D animation and cutting-edge VR technology to bring these journeys of animal migration – and the global, interconnected ecosystems they depend on - to life in several immersive, digital formats (VR, 360° 3D Documentary immersive installation, fulldome, audio experience, TV-Doc).
Paint to Pixel VR
United Kingdom
Director: Paul Long | Producer: Ricard Gras
An immersive documentary about the world of street art, created using archive materials and interviews sourced directly from key figures in the international street arts sector.
Saltwater Heart
United States, France, Haiti
Director: Shirley Bruno
A three-channel video-installation (& single-channel film) composed of watercolor animation, archival footage & live-action. A visual metamorphosis over a collection of voices recounting their personal stories of the sea, lakes, rivers, swimming pools.
Seaweed
United Kingdom
Director: Julia Parks | Producer: Jameela Khan 
An Odyssey exploring the folklore, ecology, and history of seaweed, voiced by the forgotten trawlers, pickers and labourers behind the miracle resource.
Songbird Sessions
United Kingdom
Director: Shehani Fernando
Songbird Sessions is an AR experience that connects audiences with the natural world through a combination of immersive natural sound and music. Focussing on the story of the nightingale, it is aimed at lovers of live performance who are also drawn to nature at a time when both of these things have never been valued so much.
SWARM
Poland, Hungary
Director: Ula Sowa | Producer: Viktoria Szabo
SWARM is an animated sonic VR journey through a city swarmed by a group of protesting women together with a colony of bees.
Swing and Sway (Working Title)
Brazil, United States
Director: Fernanda Pessoa, Adriana Barbosa | Producer: Jessica Luz
During the uncertainty of the pandemic, two friends - one Brazilian living in São Paulo and one Mexican living in Los Angeles - share the world around them through video letters, each one drawing inspiration from a different woman experimental filmmaker.
The Call of the Sea
Mozambique, Brazil
Director: Lara Sousa, Ana Teixeira | Producer: Ana Teixeira, Lara Sousa
An immersive experience to follow Iemanjá's (goddess of the sea) call to the bottom of the sea. Between dream and reality, the user explores traces of African cultural heritage present in Brazilian culture, while absorbing the wisdom from this mythological figure: the responsibility of taking care of the sea and its forces, and a powerful element of human existence.
The Pathogen of War
United Kingdom
Directors: Yasmin Fedda, Ladan Anoushfar | Producer: Daniel Davies
Iraqi physician turned medical anthropologist Dr Omar Dewachi explores how decades of conflict are directly linked to the evolution and spread of a deadly bacteria to ask: if war is a key driver of disease, can we end all wars to save our health?
Traces
Australia
Director: Amiel Courtin-Wilson | Producer: Alice Jamieson-Dowd
Using state of the art thermal imaging cameras, TRACES is an epic visual poem that juxtaposes a myriad of peoples lives with never before seen footage of heat leaving the human body at the moment of death. TRACES invites audiences to renew their most intimate relationship with time, mortality and the human body in a transcendent, cathartic shared ritual.
Idir Eatha (Working Title)
United Kingdom, Canada, Ireland
Director: Holly Márie Parnell
A meditation on care, interdependence and (dis)empowerment, the film follows the deeply woven relationship of a mother and son - and his disability - as they journey to return home to Ireland 10 years after being forced to leave, and their subsequent participation in a growing political movement.
Yoruba Drums (Working Title)
Brazil, United Kingdom
Director: Pedro Lacerda
Set to the ritualistic beats of the Yoruba people, one of the largest ethnic groups in West Africa, a Brazilian musicologist and his filmmaker son try to unveil the influences the Yoruba might have had on both their homeland's cultural heritage and themselves.
Sheffield Doc/Fest's MeetMarket, Arts Talent Market and Industry Programme is supported by Arts Council England, the British Film Institute, Creative Europe MEDIA, the Department for International Trade and Getty Images.