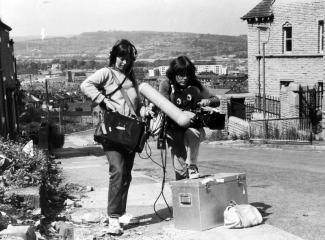 Book Tickets
This programme brings together three films spanning the Sheffield Film Co-op's history, from their early DIY activist work to innovative hybrid experiments and compelling investigative documentaries.
In the early-1970s, frustrated by the mainstream media's failure to address issues important to them, a group of women came together in Sheffield to form one of the UK's most important film collectives. Emerging from the second wave feminist movement, the Sheffield Film Co-op (1975-90) blazed a trail through the male-dominated UK film industry. Starting life in local television before seeking complete independence, it became one of the most active filmmaking workshops of the period.

Led by 'ordinary housewives' and working mothers, the Co-op pioneered collaborative and consensual ways of working, sharing skills, responsibilities and resources to produce compelling films that grappled, from intersectional perspectives, with the reality of their day-to-day lives. Their groundbreaking documentaries tackled provocative, continually relevant topics, such as abortion access, domestic abuse, worker's rights and social inequality.

The screening will be followed by a panel discussion featuring members of the Sheffield Film Co-op Jenny Woodley and Chrissie Stansfield, alongside archivist Alex Glen Wilson, hosted by Rachel Pronger.

Programme curated by Invisible Women.

A Question of Choice was recently digitally preserved and restored with Arts Council England funding as part of Cinenova's international touring project The Work We Share.