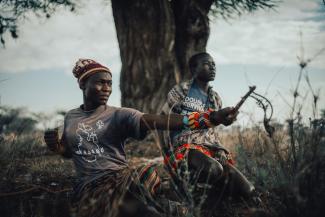 Book Tickets
This revealing, visually captivating film, shot over the course of a four-year drought in Northern Kenya, offers an original take on the conventional coming-of-age narrative. 

'The elders say that nature wasn't always this angry at us.'
Between the Rains
 tells the story of Kolei, a young shepherd whose name translates as 'living among the goats'. Unfolding over the course of a prolonged drought, we witness the boy's inner conflict as he not only questions his own identity as a warrior – a path that was chosen for him – but the erosion of the culture that has shaped every aspect of his life. Filmed during a record-low period of annual precipitation, Moses Thuranira and Andrew H. Brown's feature collaboration with the Turkana-Ngaremara community seeks to understand the experience of a childhood within a traditional culture that is directly affected by climate change.
Competitions

Playlists

Topics

Premiere status

International premiere
Film details
Director(s)

Moses Thuranira Thiane, Andrew H Brown

Country(s)

Year

2023

Duration

82 mins

Executive producer(s)

Ngaihike Napuu, Lorot Loter, Lekha Singh

Producer(s)

Moses Thuranira Thiane, Samuel Ekomol, Andrew H Brown

Cinematography

Andrew H Brown

Editing

Andrew H Brown, Dedan Wangui, Charity Kuria

Sound

Willie Abuto, Solomon Okoth

Language(s)

Swahili

Subtitles

English Subtitles Throughout

Sales Company

Emma Simpson / Journeyman Pictures

Certification