Lur Olaizola
2020
14min
International premiere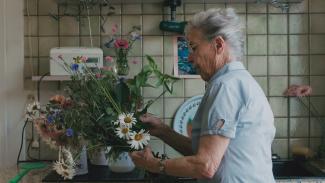 In 1954, Mamaddi Jaunarena, 22-years-old, took a boat from Le Havre to New York. But Mamaddi's journey began before, in a film theater in her hometown, Ortzaize, in France, with images that affected her life and remained with her forever: a beautiful Cadillac, a young woman, the blue sky. This is the imagery of emmigration, and its often crude reality.
This film has been nominated for the Short Film Award.
Blue sky will be followed by a live online Q&A with Lur Olaizola Lizarralde which will be live-streamed from the cinema to Selects.
Director(s)

Lur Olaizola

Country(s)

Year

2020

Duration

14 mins

Producer(s)

Lur Olaizola

Language

Basque English French

Premiere status

International premiere

Strands/Competitions

Subtitles

English Subtitles