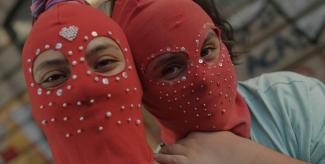 Book Tickets
The director of affordable housing exposé Push tackles another urgent topic, as he reflects on the concept of the social contract as a tool for abusive capitalism.

The social contract has long been accepted as a norm in Western societies. However, those who contribute the most, relative to what they earn, often receive the least. Encompassing three countries – Malta, the US and Chile – as well as gatherings for the world's elite such as the Davos summit,
Breaking Social
 exposes corruption and political assassinations as increasingly common, and a kleptocracy that has comprehensively undermined the notion of political democracy as it caters to the super-rich. Frederik Gertten's meticulous analysis of this complex world is all the more powerful for the clarity with which he deconstructs it. Featuring interviews with experts, activists and those affected by an increasing state of economic, legal and cultural inequality,
Breaking Social
 is a discomforting account of this voracious form of capitalism.
Strands

Topics

Premiere status

UK premiere
Film details
Director(s)

Fredrik Gertten

Country(s)

Year

2023

Duration

93 mins

Executive producer(s)

Fredrik Gertten

Producer(s)

Margarete Jangård

Cinematography

Janice d'Avila

Co-Producer(s)

Zoe Sale

Editing

Benjamin Binderup

Sound

Martin Hennel, Jatte Nilsson, Tom Deane

Language(s)

English, Spanish

Subtitles

English Subtitles Throughout

Certification