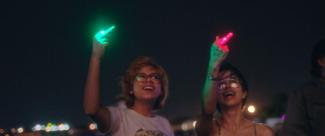 Book Tickets
In the border town of Laredo, Texas, two Mexican-Americans spend a long, aimless summer together, as they wait on an uncertain future.

Silvia Del Carmen Castaños and Estefanía 'Beba' Contreras' documentary debut was shot over a few months in 2019, shortly after Castaños' graduation from high school. Over the course of a hot, seemingly endless summer, the best friends record their lives as they hang out in bingo halls, abandoned buildings, drive-thrus and supermarkets, waiting hopefully on the resolution to Beba's immigration and right to work status, and also for something to happen. Implicitly, yet sensitively, grappling with issues around sexuality and gender identity, immigrant experiences, belonging, reproductive rights, community and activism,
Hummingbirds
is a refreshing and frequently moving testament to the redeeming, healing power of friendship and the precarity of youth.
Contains references to abortion.
Strands

Topics

Premiere status

UK premiere
Film details
Director(s)

Silvia Del Carmen Castaños, Estefanía "Beba" Contreras

Country(s)

Year

2023

Duration

78 mins

Producer(s)

Jillian Schlesinger, Miguel Drake-McLaughlin, Leslie Benavides, Ana Rodriguez-Falco, Diane Ng, Rivkah Beth Medow

Cinematography

Miguel Drake-McLaughlin, Diane Ng

Co-Producer(s)

Dawn Valadez, Isidore Bethel

Editing

Isidore Bethel, Jillian Schlesinger

Sound

Danielle Dupre

Language(s)

English, Spanish

Certification