Wood LIN
2020
12min
International premiere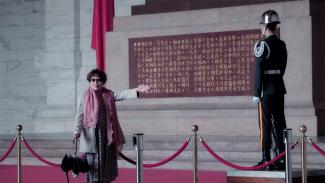 In the memorial park for the great leader lies a square named 'Liberty'. Built when Taiwan was under one-party rule, the square was initially named the 'Chiang Kai-shek Memorial Square' after the President of the Republic of China, who relocated to Taiwan after the overthrow of the Kuomintang regime in China during the Chinese Civil War, before it was renamed 'Liberty Square' in 2007. By gazing upon this place, filmmaker Wood LIN looks to uncover the legacy of authoritarianism that this dictator has left on contemporary Taiwan. Are those that play in this square aware that they do so under the statue of a dictator? Do the tourists that travel here know who they are paying their respects to? Interweaving audio from propaganda films with footage of the square, Liberty Square raises questions about the nature of history and democracy, neither of which are as simple as they may first seem.
Liberty Square will be followed by a live online Q&A with Wood Lin which will be live-streamed from the cinema to Selects.
Director(s)

Wood LIN

Country(s)

Year

2020

Duration

12 mins

Producer(s)

Wood LIN

Language

Mandarin

Premiere status

International premiere

Strands/Competitions