Dylan Williams
2021
1h 17min
World premiere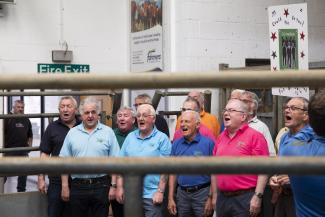 This humorous and melancholic portrait of a male voice choir in North East Wales begins with the filmmaker's father, Ed, a 90-year-old widower, selling the family home and making early arrangements for his own funeral. Weekly practice is his last remaining solace, but with an average age of 74, his beloved choir is facing a crisis of its own. They must act fast or face extinction, and the hunt begins to find "brown haired men" in their 40s and 50s to keep the choir going. As their search intensifies, the group grows closer. Ed finds new meaning in his life, while Merf deals with his own bad news by focusing on the choir's revival, and Gwyn laughs in the face of a prostate cancer diagnosis, walking the wing of a plane to raise money for charity. Eventually, they travel to Northern Ireland to perform for the first time in two decades.
Men Who Sing will be followed by a live online Q&A with Dylan Williams which will be live-streamed from the cinema to Selects. You can also watch this below.
Please also join us for a free online workshop inspired by Men Who Sing, 'We Are Family: The Special Bond of Singing' - 19:00 (BST) Tues 8 June with Frankie Armstrong and Val Regan, Natural Voice Network and Dave Camlin, Royal College of Music.
This workshop is part of the Sheffield DocFest Community Programme.
Director(s)

Dylan Williams

Country(s)

Year

2021

Duration

77 mins

Producer(s)

Euros Wyn, Llion Tegai, Dylan Williams

Language

Welsh English

Premiere status

World premiere

Strands/Competitions

Additional information

Bereavement