Bjergene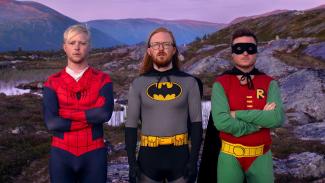 Book Tickets
Two decades after the tragedy that dramatically disrupted his family's life, Christian Einshøj records their attempts at reconciliation.
When Einshøj's father, an overworked CEO, is laid off, he decides to sell the family home. Equipped with a camera, some 75,000 family photos, 30 years of home movie footage, a vast stamp collection and three tight-fitting superhero outfits, Einshøj decides it's time to look into his family's past and deal with a tragedy that transformed the way they related to each other. Over 25 years ago, Einshøj's brother died. Feelings were stifled and, over time, emotions festered.
The Mountains
 looks back in an attempt to seek some reconciliation. It grapples with the family's response to the tragedy and in doing so explores the nature of father-son relationships. It's a wry, moving and often revealing portrait of interpersonal dynamics.
Strands

Topics

Premiere status

UK premiere
Film details
Director(s)

Christian Einshøj

Country(s)

Year

2023

Duration

88 mins

Executive producer(s)

Helle Faber

Producer(s)

Mathilde Hvid Lippmann

Cinematography

Christian Einshøj

Editing

Christian Einshøj

Sound

Sune Kaarsberg

Language(s)

Danish, Norwegian

Subtitles

English Subtitles Throughout

Certification