Nũhũ Yãg Mũ Yõg Hãm: Essa Terra É Nossa!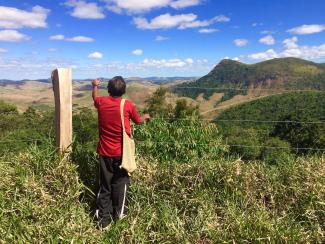 Show Information
Filmed on their own land, This Land is our Land! is a unique and multilayered visual cartography made by Brazilian Indigenous filmmakers Isael and Sueli Maxakali and their collaborators. Following Yãmīhex: The Women-Spirit (2019), a landmark in Brazilian Indigenous cinema, Isael and Sueli Maxakali have crafted another personal film that shifts across multiple forms, combining mourning practices, rituals, and chanting, with interviews and observational material to create a study of white violence that reminds us of the urgency of seeing beyond the western gaze. Sharing their complex understanding of physical, historical, and mythological space through the film's form, the filmmakers chart a hypnotic journey that acts as a manifesto against all kinds of borders, those that divide nations and those that demarcate land. Farmers in the area may have violently taken their land, but this has not silenced them, as is shown by this film with its tender yet boldly confrontational gaze.
Nuhu Yãg Mu Yõg Hãm: This Land Is Our Land! will be followed by a live online Q&A with Isael Maxakali, Sueli Maxakali, Carolina Canguçu and Roberto Romero which will be live-streamed from the cinema to Selects.
Sections

Premiere status

International premiere
Film details
Director(s)

Isael Maxakali, Sueli Maxakali, Carolina Canguçu, Roberto Romero

Country(s)

Year

2020

Duration

70 mins

Producer(s)

Carolina Canguçu, Roberto Romero

Language(s)

Portuguese, Maxakali

Subtitles

English Subtitles Throughout