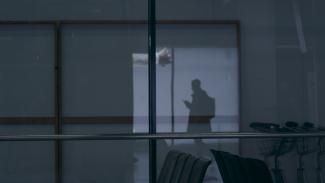 Book Tickets
When a human rights activist, returning to the UK, has his electronic devices confiscated by border authorities, it highlights an unsettling programme of state surveillance.
Muhammad Rabbani is the Director of CAGE, a human rights organisation that fights discrimination in the so-called 'War On Terror'. He travels around the world and is trusted with highly sensitive personal information by people in vulnerable situations. On one occasion, while returning to the UK from an overseas trip, he was stopped at the border and threatened with imprisonment if he didn't hand over the passwords to his electronic devices. He refused. Phantom Parrot reveals a covert form of surveillance involving collaboration between the tech industry, police and security services. With insight provided by people who work with these technologies, this film is a must-see for anyone who cares about civil liberties in the digital age.
The screening on 15th June will be followed by an extended Q&A with Director Kate Stonehill, lead contributor Muhammad Rabbani, and lawyer Richard Parry. Richard Parry is representing the French publisher who made international headlines when he was detained under Schedule 7 of the Terrorism Act in April 2023, while on his way to attend the London Book Fair.
Strands

Topics

Premiere status

UK premiere
Film details
Director(s)

Kate Stonehill

Country(s)

Year

2023

Duration

80 mins

Executive producer(s)

Alex Lieberman, Sandra Whipham, Gary Lieberman

Producer(s)

Steven Lake

Cinematography

Kate Stonehill, Ronnie McQuillan, Matt Bockelman, JP Lewis

Editing

Emiliano Battista, Vera Simmonds

Sound

Kim Tae Hak

Language(s)

English, German

Subtitles

Partial English Subtitles

Certification