Pedro Speroni
2021
1h 12min
World premiere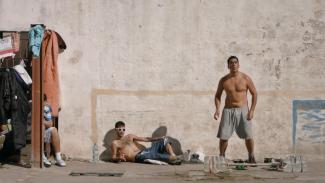 In a maximum-security prison in Argentina, a boxer doggedly seeks his freedom. A group of guys dream of one day making their millions. A young man comes in for killing his stepfather. The leader of the place has been sitting in there for 30 years. Throughout, the same word is repeated: 'rancho', used with a liberating flexibility. You call your friend 'rancho', you 'ranch' together. Pedro Speroni's prison portrait is a highly concentrated one, built entirely from the moments these men share while incarcerated. Their exchanges are intense: they joke about muggings, about beating people to a pulp; they jostle and spar; they confide in quiet moments. Society puts up barriers that these men bounce against like balls in a pinball machine, all ending, ultimately, in the same place. What they create there together is its own kind of utopia: a closed environment with rules and norms of its own making.
This film has been nominated for the First Feature Award.
Rancho will be followed by a live online Q&A with Pedro Speroni which will be live-streamed from the cinema to Selects.
Director(s)

Pedro Speroni

Country(s)

Year

2021

Duration

72 mins

Producer(s)

Ignacio Sarchi, Pedro Speroni, Mercedes Speroni

Language

Spanish

Premiere status

World premiere

Strands/Competitions

Subtitles

English Subtitles Throughout