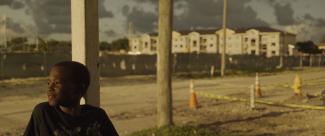 Book Tickets
As rising sea-levels threaten the city of Miami, one local black community fight to save their neighbourhood from property developers and climate gentrification.
Liberty Square was one of the first public housing projects in America's South. It also happens to sit on the highest — and driest — ground in Miami. Now considered to be real estate gold, the whole area is slated for a government-backed $300 million 'regeneration' project. Shot over the course of five years, Oscar-nominated director Katja Esson captures the plight of one community forced into mobilisation to save their homes. When developers begin to offer residents financial incentives to leave the site, tensions reach boiling point. With the future of this historic neighbourhood up for sale,
Razing Liberty Square
 presents a powerful study of the overlapping crises of climate change, systemic racism and the lack of affordable housing.
Special Programmes

Strands

Topics

Premiere status

European premiere
Film details
Director(s)

Katja Esson

Country(s)

Year

2023

Duration

85 mins

Executive producer(s)

Sumalee Montano, Grace Lay, Sally Jo Fifer, Lois Vossen

Producer(s)

A Bennett , Katja Esson , Corinna Sager, Ronald Baez

Cinematography

Hector David Rosales

Editing

Flavia De Souza, Suanne Schiebler, Leigh Johnson

Sound

Ariel Novo, Daphne Guisano

Language(s)

English

Subtitles

No English Subtitles

Certification