A TikTok War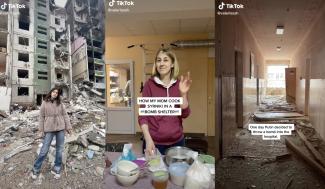 Book Tickets
From sheltering in bunkers to travelling across Europe as refugees, TikTok has been appropriated to chronicle and explain the horror of the Ukraine war.
Since the invasion of Ukraine began, TikTok has offered audiences intimate and startlingly direct glimpses of war. The conflict isn't the first to play out on social media – the Arab Spring uprisings and the Syrian civil war used Facebook and Twitter to organise protests and broadcast D.I.Y. footage. But TikTok usershave appropriated the platform to tell the story of war in their own cultural language, finding a new style of reportage, analysis and caricature.  
Content Guidance: Work contains war scenes.
Visit our TikTok account here and click on our liked videos to see our selection.
Special Programmes

Playlists
Film details
Country(s)

Year

2022

Medium

Moving Image

Duration

15 mins