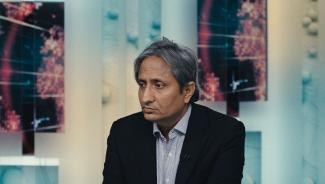 Book Tickets
Hindi-language journalist Ravish Kumar and filmmaker Vinay Shukla examine the rapidly deteriorating state of television reporting in India.
Kumar is one of India's leading Hindi news journalists. During his time at NDTV, a leading national news channel, he has witnessed first-hand a changing media landscape. Resources and funds are depleted, colleagues have left for better-paid jobs and ratings continue to dip. Amidst all this, he also has to deal with personal threats, hate emails, the decimation of ethics through competition with other channels, and a rise in nationalism that is radically transforming political, social and cultural life. Shukla presents this story like a thriller, capturing with urgency the threat that these changes pose. As Kumar continues to fight for a fair and balanced news media,
While We Watched
 reflects an unsettling trend sweeping across the world.
Awards

Strands

Topics

Premiere status

UK premiere
Film details
Director(s)

Vinay Shukla

Country(s)

Year

2022

Duration

95 mins

Executive producer(s)

Maxyne Franklin, Jess Search, Beadie Finzi

Producer(s)

Vinay Shukla, Luke W. Moody, Khushboo Ranka

Cinematography

Amaan Shaikh

Editing

Abhinav Tyagi

Sound

Renganath Ravee

Production company

LONO Studio, Britdoc Films

Language(s)

Hindi

Subtitles

Partial English Subtitles

Certification