Rita Carelli and Vincent Carelli
2020
21min
European premiere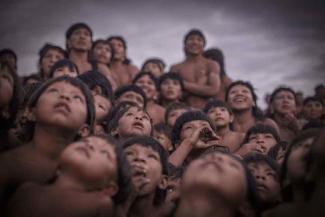 Video in the Villages is an ongoing project initiated in 1985 by filmmakers Vincent Carelli and Virginia Valadão. It works to use television technologies in partnership with Indigenous peoples as a tool of empowerment for their fight to preserve their lands and ways of life. For 15 years, this project has worked with the Enawenê-nawê Indians, creating extensive records of the Yaõkwa, their longest ritual, which seeks to maintain the balance of the earthly world as a spiritual world. Now, in the Mato Grosso state of Brazil, an audience of more than 1,000 Enawenê Indians view images depicting their Yaõkwá ritual, recorded 25 years earlier. Through footage of their deceased relatives replayed in these repatriation screenings, the Enawenê-nawê rediscover precious customs, rituals, and traditions that have fallen into disuse in the years since these images were first recorded.
Yaõkwá, Image and Memory will be followed by a live online Q&A with Rita Carelli and Vincent Carelli which will be live-streamed from the cinema to Selects.
Director(s)

Rita Carelli and Vincent Carelli

Country(s)

Year

2020

Duration

21 mins

Producer(s)

Vídeo nas Aldeias

Language

Enawene Nawe

Premiere status

European premiere

Strands/Competitions