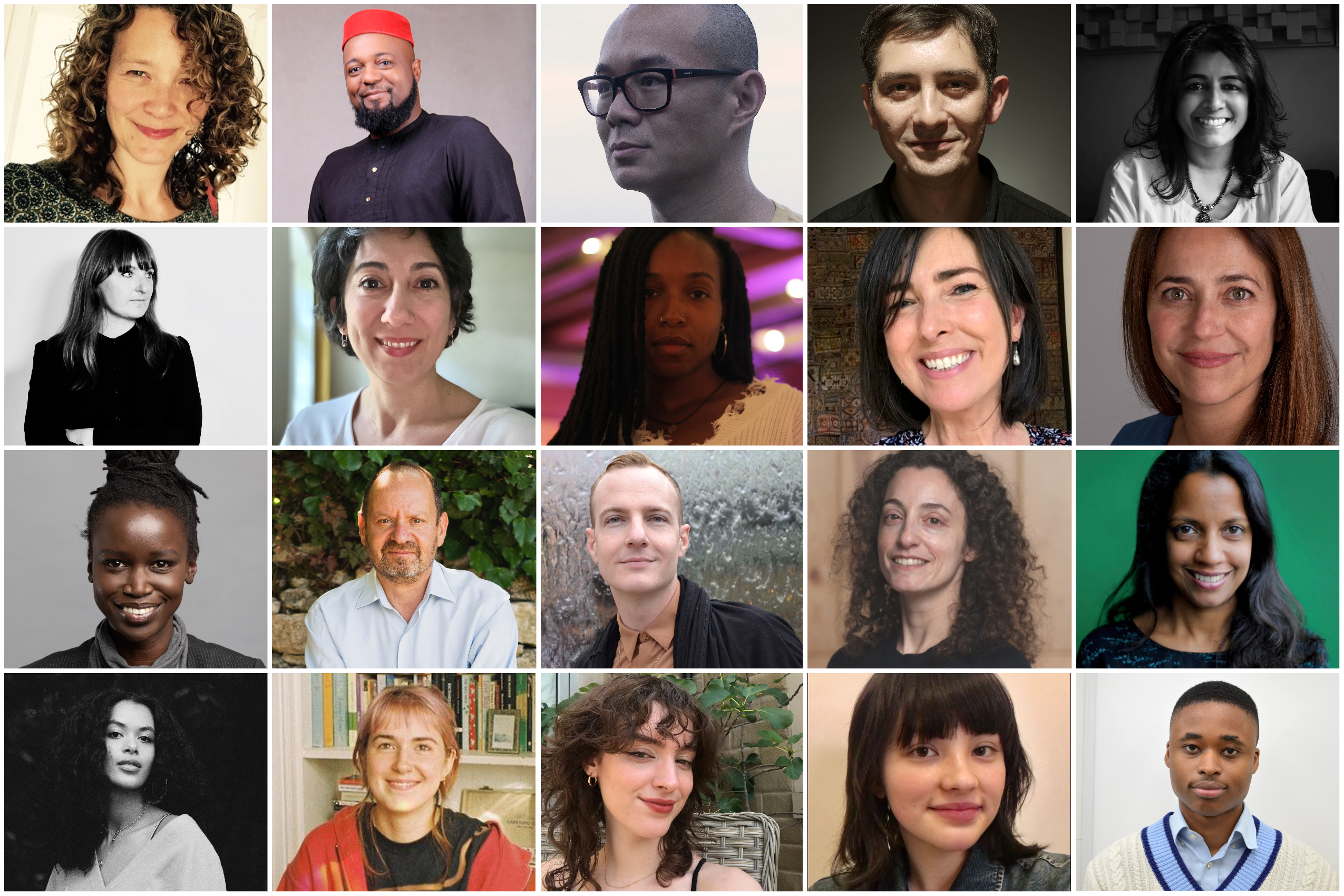 We are delighted to announces the Juries for this years' International Competition, International First Feature Competition, International Short Film Competition, the Tim Hetherington Award and the Alternate Realities Award. Winners will be revealed during a ceremony at Sheffield City Hall's Memorial Hall on 28 June, the Festival's closing night.
---
International Competition Jury
The Jury for the International Competition are: Emma Davie, an Edinburgh College of Art lecturer, and Academy member, whose feature documentaries include Becoming Animal, I am Breathing and The Oil Machine which has its world premiere at Sheffield DocFest; highly celebrated Nigerian filmmaker Ike Nnaebue, whose new film No U-Turn received a Special Mention at Berlinale 2022 and has it's UK premiere at Sheffield DocFest; and producer Raymond Phathanavirangoon, who co-founded SEAFIC and has programme consulted for Cannes Critics' Week and the Hong Kong and Toronto international film festivals.
There are nine films in Official Competition are up for the Best Film Award which honours films that display strong artistic vision and courageous storytelling. Supported by BBC Studios Documentary Unit, this Award is Academy Award® accredited.
From left to right: Ike Nnaebue, Raymond Phathanavirangoon, Emma Davie

---
International First Feature Competition Jury
The International First Feature Competition jury are: Roman Bondarchuk filmmaker (Ukrainian Sheriffs, Vulkan) and Art Director of DocuDays UA International Human Rights Documentary Film Festival, who is a key contributor to the Ukrainian programme at Sheffield DocFest; Nainita Desai a multi-award-winning composer who has scored hundreds of acclaimed documentaries including recently For Sama, The Reason I Jump and Netflix hit 14; and Natasha Gadd the CEO/Creative Director of the Australian International Documentary Conference, the premier nonfiction event in the Southern Hemisphere.
There are nine films in the International First Feature Competition, which honours the future of non-fiction film, celebrates promising talent and is supported by Netflix.
From left to right: Natasha Gadd, Nainita Desai, Roman Bondarchuk.

---
International Short Film Competition Jury
The Jury for International Short Film Competition are, Zeynep Güzel, a filmmaker (Come Rain or Shine, 2019), consultant, producer and the former Head of the Yeni Film Fund, Turkey's first private documentary fund; Cherish Oteka, a BAFTA-winning filmmaker (The Black Cop won Best British Short Film in 2022), who is passionate about telling universal stories through the lens of underrepresented communities; and Saskia Wilson (FHEA), a course leader in Film and TV Production at Sheffield Hallam University, executive producer at Diaspora Media Hub who has also worked extensively as a producer in Factual for broadcast TV.
The eleven films in the International Short Film Competition are up for the Best Short Film Award which honours the best creative approach to documentary under 40 minutes. Supported by WarnerBros OneFifty, this section is Academy Award®, BAFTA and BIFA accredited.
From left to right: Zeynep Güzel, Cherish Oteka, Saskia Wilson FHEA

---
Tim Hetherington Award Jury
Jurors for the Tim Hetherington Award are Elena Cosentino, who has worked in the world's hotspots as a journalist and filmmaker for 20 years and now runs the International News Safety Institute, helping the news media keep journalists safe; South Sudanese filmmaker Akuol De Mabior who won the coveted Whickers Pitch at Sheffield DocFest 2020 for the project that would become No Simple Way Home, her first feature-length film which also has its UK premiere at this year's Festival; and renowned human rights advocate Philippe Sands QC who is Professor of Law at UCL and Harvard, an author and barrister and the writer of acclaimed documentary My Nazi Legacy.
Six documentaries will be considered for the Tim Hetherington Award which recognises a film and filmmaker that best reflects the legacy of photojournalist and filmmaker Tim Hetherington and is supported by Dogwoof.

---
Alternate Realities Award Jury
Jurors for the Alternate Realities Award which honours the best innovative non-fiction work are Dr Rob Eagle, a digital artist, Research Fellow at the BFI and XR Stories and an Associate Lecturer in immersive media at UWE Bristol; Shehani Fernando an award-winning immersive producer/director whose work includes 'The Waiting Room VR' (as producer) which won IDFA's Digital Storytelling award, and the roomscale experience, 'Extraordinary People, Extraordinary Places' (as director) for ScanLAB Project, she also leads workshops at StoryFutures Academy and presents their podcast; and Irini Papadimitirou Creative Director at FutureEverything, who was previously Digital Programmes Manager at V&A and is co-founder of Maker Assembly, co-curator for the Arts & Culture experience at Mozilla Festival, and an Advisory Board member for ONX Studio.
---
Youth Jury
This award is presented by five of the UK's most passionate young documentary lovers to celebrate non-fiction cinema and is supported by Warner Bros. Discovery. The Youth Jury was previously announced as Emma Morgan-Bennett, Esme Haddrill Selman, Hannah Jackson, Mie Murasa and Xaymaca Awoyungbo who have curated a selection of seven films that will be considered in a mentored deliberation.
---
Audience Awards
The Sheffield DocFest audience have the opportunity to cast their vote at cinemas and venues for their favourite films and works - every feature film in the programme is eligible for the FIlm Audience Award – and all of the works in this year's Alternate Realities programme are eligible for the Alternate Realities Audience Award, supported by The 5Gs.
---
Pitch Sessions
Winners of three sessions for selected emerging directors to pitch their non-fiction projects to panels of judges will also be announced during the ceremony, the sessions are: The Whicker's Pitch vying for the coveted £100,000 Film & TV Funding Award. Channel 4 First Cut Pitch to secure a commission for a 60-minute film, and one month of fully-paid development and mentorship with an independent production company. BBC Three Northern Docs Pitch for filmmakers from the North of England pitching for the prize of a documentary commission with BBC Three.
---
DocFest Awards Ceremony
The DocFest 2022 Awards Ceremony takes place at Sheffield City Hall - Memorial Hall on Tuesday 28 June, 18:30. Find out more.