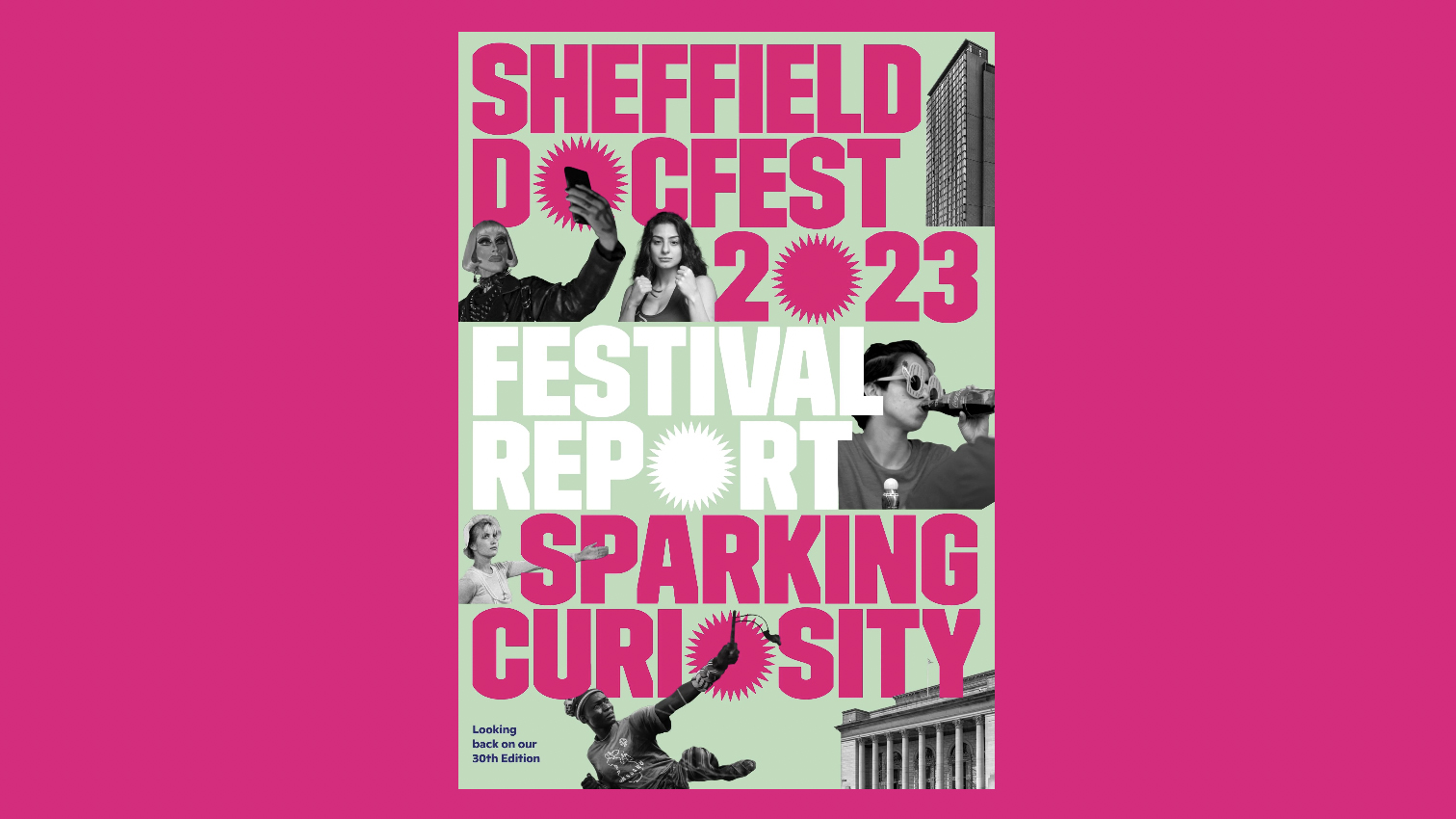 From 14 - 19 June 2023, we celebrated our 30th anniversary edition in Sheffield and online, sparking our audiences' curiosity through a diverse array of events and voices. Following on from the success of the festival, we're pleased to present our 2023 Festival Report and invite you to reflect on the achievements of this year's edition with us!
Read the Report:
This year's festival attracted more than 37,821 in-person admissions with a further 4,724 online views of films in the programme. This boost of more than 25% in in-person audience numbers tells us that audience's appetite for the live experience is returning post-pandemic. 44% of them watched more than four films and 98% of them had a good, or better, time with us! We were also delighted that our 2023 programme drew 40% of public audiences from outside of South Yorkshire, some even travelling from the US and Europe to attend. The festival also welcomed 2,272 industry delegates from 64 countries across the world. 
"After six days at DocFest it's clear that the spirited and curious character of the festival extends further than the programme of films and talks, it's imbued in the staff, volunteers and attendees, and through this community, soaked up into the city itself. I walked home every day buzzing with insight and brimming with new documentary recommendations for anyone who would listen." – Alaina Briggs, Sheffield DocFest Local Advisory Group
Our 2023 programme boasted 122 films, including 38 World Premieres, 19 International Premieres, 10 European Premieres, 47 UK Premieres and 8 retrospective films, from 52 countries of production with 43 languages represented. 213 screenings took place over 6 days in Sheffield cinemas and venues, and we expanded our programme to include an abridged verbatim theatre piece, live podcast events, premieres of TV series and virtual reality exhibitions, all pushing the boundary of documentary form.
15 projects were exhibited in Alternate Realities, our programme for innovative non-fiction and immersive documentaries; 48 projects were presented in the MeetMarket pitching forum including 6 projects presented as part of our new Rough Cut screenings; we hosted four live pitches from BBC, Channel 4 and The Whickers.
Our talent programmes supported 79 early-career makers, crew, artists and critics, across two talent markets, bursary schemes, youth jury and the return of our Filmmaker Challenge, mentored by Academy Award winning director Kevin Macdonald.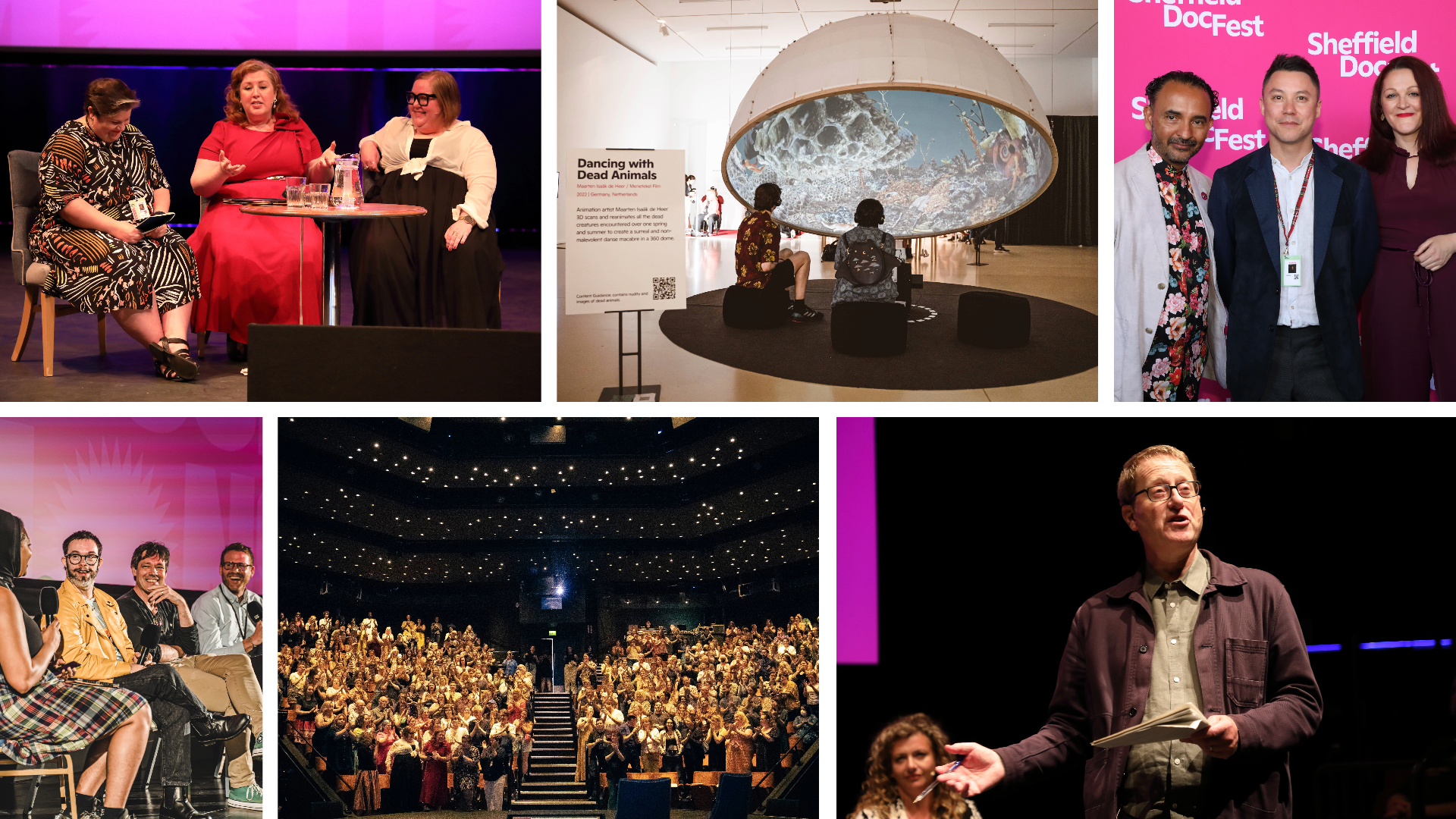 Top 10 Audience Rated Films: 
Your Fat Friend - Jeanie Finlay / USA, UK / International Premiere / 2023 (Audience Award Winner)
White Nanny Black Child - Andy Mundy-Castle / UK / UK Premiere / 2023
20 Days in Mariupol - Mstyslav Chernov / Ukraine / UK Premiere / 2023 (Tim Hetherington Award Winner)
Transition - Jordan Bryon, Monica Villamizar / USA / International Premiere / 2023
Otto Baxter: Not A F***ing Horror Story - Peter Beard, Bruce Fletcher, Otto Baxter / UK / World Premiere / 2023
Is There Anybody Out There? - Ella Glendining / UK, USA, Scotland / UK Premiere / 2023
The Gullspång - Miracle Maria Fredriksson / Sweden / European Premiere / 2023
My Friend Lanre - Leo Regan / UK / World Premiere / 2023
Great Photo, Lovely Life - Amanda Mustard, Rachel Beth Anderson / USA / UK Premiere / 2023
The Body Politic - Gabriel Francis Paz Goodenough / USA / World Premiere / 2023
"To bring a film home to Sheffield DocFest, a festival that I have been coming to and showing films at for 20 years, has been incredibly emotional and meaningful. Our International Premiere at the Crucible Theatre was an experience I will remember and treasure for the rest of my life." – Jeanie Finlay, Director and Producer of Your Fat Friend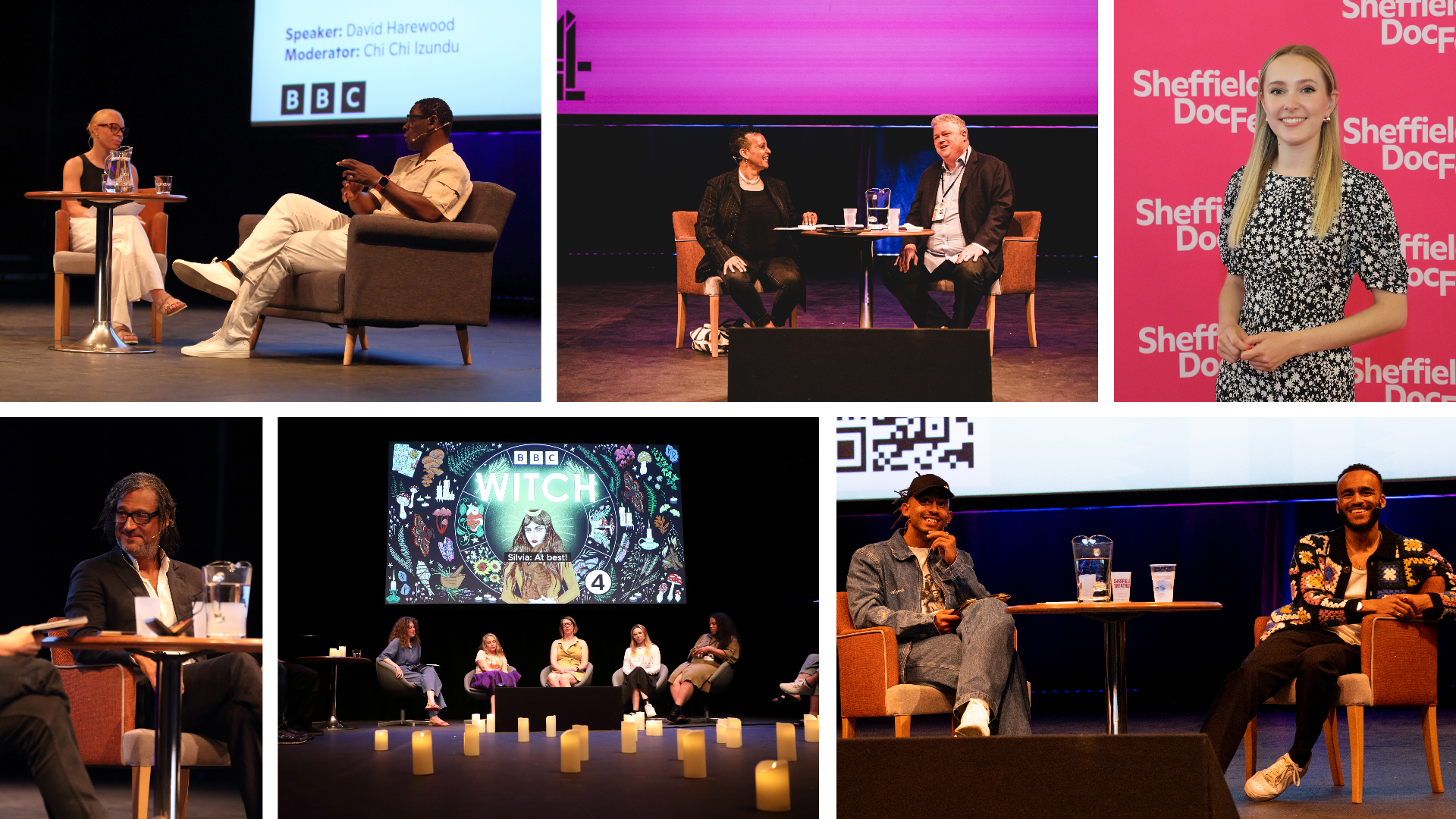 We presented headline talks from a wide range of speakers including our Guest of Honour, Iranian 'grandmother of documentary filmmaking' Rakhshan Banietemad, social media satirist Munya Chawawa, and academic and historian David Olusoga; broadcaster talks included interviews with David Harewood, Laura Whitmore and Rose Ayling-Ellis; and headline filmmaker conversations included Award winning filmmakers Chris Smith, Kim Longinotto and Jeanie Finlay with subjects ranging from X-factor winner Dalton Harris, to activist and blogger Aubrey Gordon and 1980s musical icon Andrew Ridgely.
Top 5 Talks & Sessions rated by DocFest Audiences:
Rose Ayling Ellis: Signs for Change
Channel 4 Interview: David Glover
DAE Anti-racism Workshop
National Geographic: Putting Premium Documentaries at the Heart of the Brand
Podcast Live: Witch
"Sheffield DocFest is one of the most rich, diverse, intellectually and socially stimulating festivals I've ever taken part in." – David Amiel, France Télévisions (France)
Image credits:
Image 1:
Top L-R: 1. Joan Parsons, Jeanie Finlay (dir. Your Fat Friend) & Aubrey Gordon - image credit David Chang. 2. Alternate Realities Exhibition, Dancing with Dead Animals by Maarten Isaäk de Heer - image credit Anh Do. 3. Raul Niño Zambrano, Paul Sng (dir. Tish), Annabel Grundy - image credit David Chang.
Bottom L-R: 1. Toni Lee; Otto Baxter, Bruce Fletcher & Peter Beard (dirs. Otto Baxter: Not A F***ing Horror Story) - image credit Anh Do. 2. Your Fat Friend audience at Crucible - image credit Lilian Corrigan. Image 3. Jonathan Freedland (Jews. In Their Own Words) - image credit David Chang
Image 2:
Top L-R: 1. Chi Chi Izundu & David Harewood - image credit David Chang. 2. Tabitha Jackson & David Glover - image credit Anh Do. 3. Rose Ayling-Ellis - image credit David Chang.
Bottom L-R: 1. David Olusoga - image credit David Chang. 2. Alex Hollands, India Rakusen, Eleanor Janega, Tatum Swithenbank & Emma Karthyn - image credit David Chang. 3. Jordan Stephens & Munya Chawawa - image credit Emily Johnson.