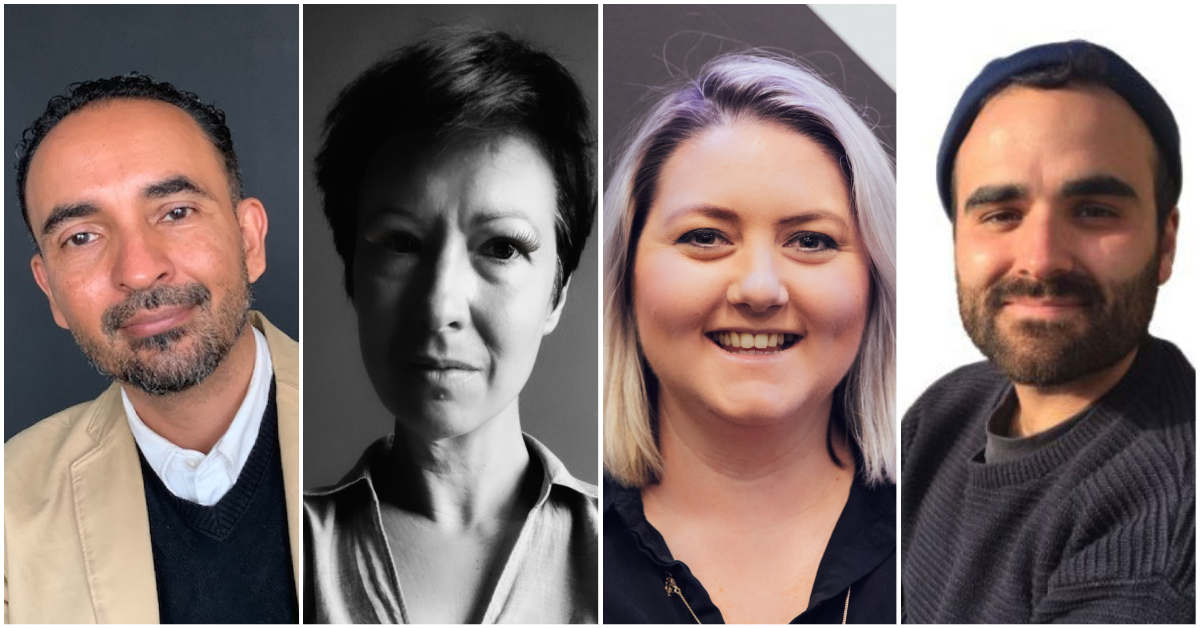 We are delighted to welcome to our team, festival programmer Raul Niño Zambrano as Head of Film Programmes; Emmy award-winning immersive director Francesca Panetta as Alternate Realities Curator; and Sarah Mosses and John-Paul Pierrot of Together Films agency to lead on the 2022 Festival's Marketing & Audience strategy and campaign.
As previously announced, award-winning filmmaker Asif Kapadia will be our 2022 Guest Curator. Raul Niño Zambrano and Francesca Panetta complete the senior creative team, working on the Festival's official selection in parallel to the programme sections personally curated by Kapadia.
Clare Stewart, Interim CEO said:
"We are thrilled to be welcoming such impressive industry leaders to the Sheffield DocFest team and are excited by the powerful combination of ideas, experience and international perspectives they will bring to the development and delivery of the 2022 edition. While the landscape for festivals remains in flux, together with the existing team, we will forge a bright future for Sheffield DocFest and for the industry colleagues, audiences, partners and community who continue to be so invested in that future."
Raul Niño Zambrano will take on the new role of Head of Film Programmes and will join us at the end of January from IDFA (International Documentary Film Festival Amsterdam) where he is currently a Senior Programmer. Amongst his achievements at IDFA, Raul spearheaded a ground-breaking study on the position of women within the documentary world The Female Gaze and initiated the IDFA Queer Day. Raul will take the lead on Sheffield DocFest's screening programme, working on the official selection with the internal programmes team as well as consultant programmers and programme advisers.
Raul Niño Zambrano said:
"Sheffield DocFest plays such a vital role in the international documentary arena as well as for the British industry, and so it is a dream come true to lead on the programming and to connect filmmakers, film professionals and audiences with the latest trends within the documentary genre. I am also excited to make a contribution to UK cultural life at a time when its film and TV industries are really taking such positive steps to be more inclusive and accessible."
Francesca Panetta's recent AI interactive work In the Event of a Moon Disaster, made while she was a Creative Director in the MIT Center for Advanced Virtuality, won a 2021 Emmy for Interactive Media Documentary. Francesca starts this week as the curator of Alternate Realities, our showcase exhibition and programme for immersive documentary and non-fiction forms including virtual (VR), augmented (AR) and mixed reality (MR), artists' moving image, interactive performance and sound installation from around the world. Francesca will also lead on identifying and securing relevant speakers for associated talks and panels as well as participants in the Alternate Realities Talent Market for immersive documentary and non-fiction forms.
Francesca Panetta said: 
"I'm absolutely delighted to be joining Sheffield DocFest, a festival that has long been a beacon for documentary making that pushes form and takes risks. I'm honoured to be curating Alternate Realities as the immersive industry enters a new phase – one in which audiences of all demographics are now familiar with virtual worlds, and artists and media makers are adopting and bending technologies at a furious rate."
Innovative marketing, distribution, and technology company Together Films takes on the Festival's Marketing and Audiences remit with Sarah Mosses (Founder & CEO) leading on strategy,  local and venue marketing partnerships and international engagement opportunities, and John-Paul Pierrot (Head of Digital Marketing & Partnerships)  leading on digital marketing management and team liaison. Together Films hosted the Digital Perspectives webinar series that helped 3500+ industry colleagues to pivot to virtual during the lockdown, and are an advisor to various festivals including DOC NYC & Human Rights Watch Film Festival.
Sarah Mosses said:
"We are thrilled to use our international perspective to build Sheffield DocFest's industry and audience reach in 2022. We have long admired the festival and having attended it personally for the past 10+ years, we know the brand essence extremely well. At its heart, Sheffield DocFest has always been a festival that challenges perceptions, and delivers a thought-provoking programme whilst still being great fun. We can't wait to welcome the community back this year!"
Image (Left – Right): Raul Niño Zambrano, Francesca Panetta, Sarah Mosses and John-Paul Pierrot.
To keep up-to-date with all the latest DocFest news, sign up to our e-newsletter here.