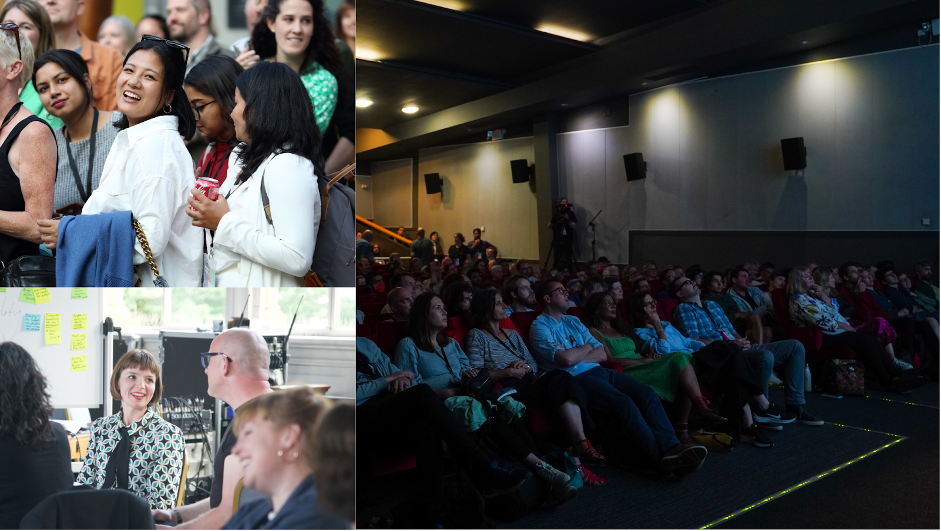 Live in South Yorkshire and want to attend Sheffield DocFest - an international documentary film festival based in Sheffield City centre. Are you interested in shaping the future of the festival and having your say?
Our Local Advisory Group
As part of our on-going mission to make our festival welcoming, accessible and enjoyable to all, we are launching a new scheme inviting people from across the South Yorkshire region to attend the festival in June. As part of the Local Advisors' attendance at the festival, we ask that they attend as many screenings, talks and events as they can fit into 6 days. And after the festival, provide feedback on their experience that we can use to shape and inform decisions for the 2024 festival and beyond!
Six applicants will be invited to attend the festival (taking place 14-19 June 2023) with a complimentary festival pass, plus 3 in person meetings in July/August 2023, September 2023 and January 2024 (dates tbc).
We aim to continue this scheme for future editions and wish to welcome this year's successful applicants to take part in the 2023 and 2024 festival, as we believe impact and change can only be achieved gradually and over time.
What is Included?
A complimentary festival pass, which will give you access to our full festival programme of film screenings, exhibitions, talks and panels, live pitches, industry sessions, networking events and parties

Invite to our programme launch (10 May 2023), and Opening Night on 14 June 2023

Travel expenses to and from the festival in June and to the Advisory meetings 

Discount code for film screenings during the festival, to share amongst your friends, family and network

Attend a pre-festival briefing with our team (June 2023)

Attend a post-festival debrief to share your experiences and feedback on the event ( July/August 2023)

Meet with our team before festival planning days (taking place September 2023) to feed into planning for our 2024 festival

Final meeting with the team in preparation for the festival 2024 (January 2024)
​​​​​​​
Who is Eligible?
You must be aged 18+ 

Open to anyone living in the South Yorkshire region - Sheffield, Doncaster, Barnsley or Rotherham 

No prior experience, specific skills or knowledge are required to take part

We are actively seeking participants from groups underrepresented in arts, culture, film and the TV industry, including but not limited to: d/Deaf or disabled people, people who are ethnically diverse, LGBTQIA+, women and gender minority people, and those from low-income and working class backgrounds.
​​​​​​​
How to Apply?
To apply, please send us either a video (no more than 3 minutes long) or a written statement, responding to the following questions:
Tell us a little bit about yourself, who you are and where you're from, your interests, and why you are applying to be part of the Sheffield DocFest Local Advisory Group

Describe an arts organisation, venue, or local event that you love and why.
Please email your application to: community@sheffdocfest.com, with the subject line: Local Advisory Group Application.
Applications will close Tuesday 25 April, 17:00 BST.
We monitor the diversity of people engaging in all our programmes and initiatives and for the purposes of reporting to our key funders we ask that you help us by clicking on the link below to complete an anonymous questionnaire. https://forms.gle/GJnjUvFkrjMyrCGi8 
If you have any questions, or require further information (including requests for printed forms/access support), please contact us on: community@sheffdocfest.com 
Or call us on +44 (0) 114 276 5141 - our office hours are 9:30am - 5:30pm Monday to Friday