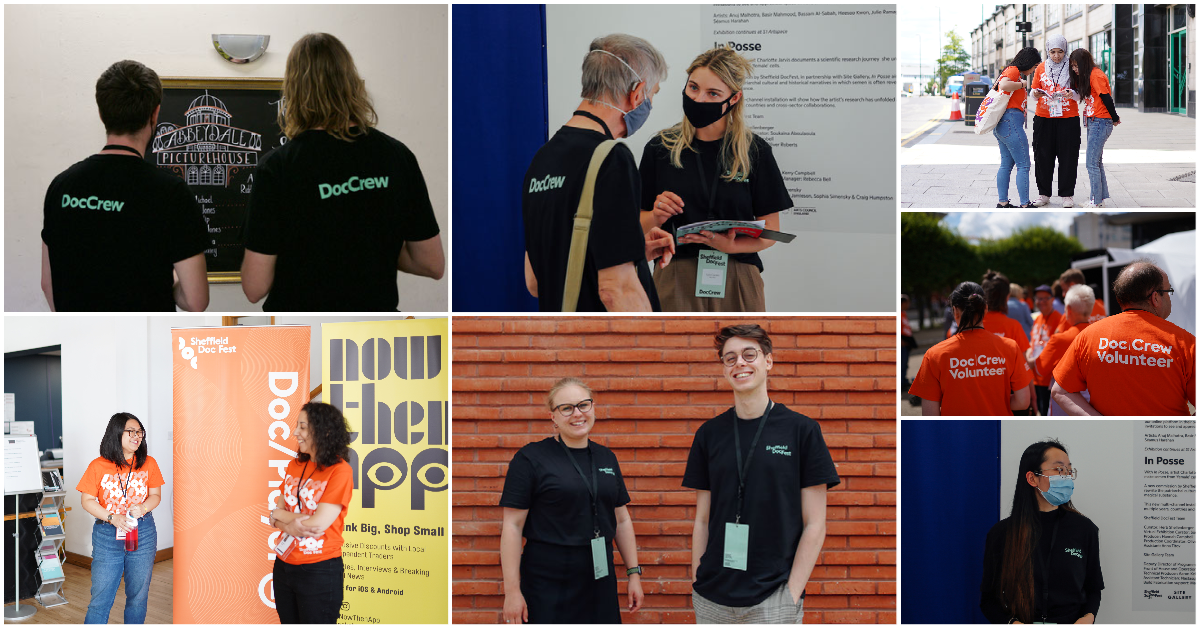 Interested in volunteering? Hear what some of our DocCrew alumni have to say about their experience volunteering with us.
"The programme was amazing it gave me so much experience in the film industry. I got to meet some amazing people and make some new friends. Plus, all the staff were so helpful and caring. This is definitely something I would be interested in doing again."
– Alisha Wright, Social Media Crew 2021
"It was a great experience to be a part of Sheffield Doc Fest as a photographer. The team was professional, friendly and supportive. On top of that, I had the chance to enjoy many good films and exhibitions that inspired me for my own projects. I would definitely love to be part of it again in the future"
– Anh Do, Photography Crew 2021
"Volunteering for Sheffield DocFest was a brilliant opportunity. I worked with the social media team and was given a lot of independence and trust. It helped to develop my skills and exposed me to varied documentary work that I would have missed otherwise. The team at the festival are so supportive and if you are thinking of volunteering then you should."
– David Hall, Social Media Crew 2021
"What I enjoyed most about my volunteer experience with the Social Media Crew at Sheffield DocFest was the constant engagement with the excellent documentary programme screened at the festival and the chance to interact with people who are equally as passionate about this genre. Sheffield DocFest offers a uniquely diverse and positive work environment. The festival's staff is very friendly and welcoming, always attending to the needs and comforts of all volunteers."
– Margarita Dreiling, Social Media Crew 2021
"Working with Sheffield DocFest was an amazing experience. I had a chance of working as a camera operator during the events and got to watch a lot of the amazing films that were being shown and made some great connections there. After that, I also had the chance to work as a Festival Assistant which gave me the opportunity to learn more about how the festival works! I would recommend everyone to volunteer."
– Rita Pais, Film Crew 2021
There are plenty of ways to get involved, with volunteer roles spanning all aspects of the festival from films and exhibitions, to special events and parties.