Wed 9 June 19:00
Zoom
1h 00min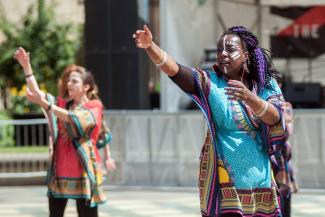 A participatory workshop inspired by Firestarter: The Story of Bangarra.
Watching the film beforehand is recommended but not essential. We have some free places for the film as part of the Community Programme. Please email us on community@sheffdocfest.com if you would like one of these.

With a ritualistic approach to movement, this session offers a release of energy and empowerment through simple choreography whilst respectfully exploring the influence of Bantu culture and spiritual practices.

With Angelina Abel, Mulembas D'Africa.

Register HERE for your free place.